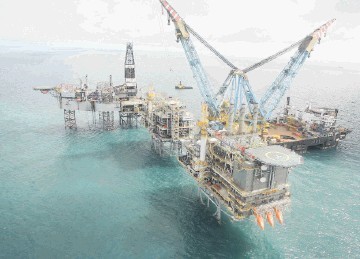 The China National Offshore Oil Corporation (CNOOC) was founded three decades ago and is one of three major state-controlled oil companies in China.
The firm, which employs nearly 5,400 people, is listed on the Hong Kong and New York stock exchanges.
The Beijing business is mainly focused on exploration and production in Chinese waters, but also has interests elsewhere in Asia, Africa and North and South America. It describes itself as China's largest producer of offshore crude oil and natural gas.
In total, CNOOC has net proved reserves of nearly 3.2billion barrels of oil equivalent (boe), and produced an average of 909,000 boe per day last year.
CNOOC's chief executive, Li Fanrong, got to the top of the business with the help of a Welsh university.
The 49-year-old, who took over the top job at CNOOC last November, graduated with an MBA degree at Cardiff University's business school in 2003. He joined the firm in 1984, after graduating with a degree in oil production at Yangtze University in China in the same year and has since worked his way up to the top.
Yesterday, he said the deal to buy Nexen would benefit CNOOC and Nexen and welcomed staff to the company.
"CNOOC looks forward to welcoming all of Nexen's employees to its worldwide team, and we will clearly benefit from having Nexen employees play an important part in our international business growth platform," he said.
Calgary-based Nexen is the second-largest oil producer in the North Sea thanks to the huge Buzzard field.
The development – operated by Nexen with a 43.21% stake – produces 190,000 barrels of oil equivalent (boe) per day, but CNOOC will also be inheriting one of the UK continental shelf's biggest untapped discoveries.
Nexen's UK assets include a 36.54% interest in the £2billion Golden Eagle project, which is thought to have 150million recoverable barrels of oil equivalent and is expected to start production in 2014.
Golden Eagle makes up part of the Canadian firm's 2.3billion boe of proved and probable reserves around the world.
Currently, Nexen's net output is 114,000 boe per day in the UK, out of a total 213,000 boe per day worldwide.
Nexen, which is listed on the Toronto Stock Exchange, employs around 1,200 people in the UK out of a worldwide workforce of around 3,000.