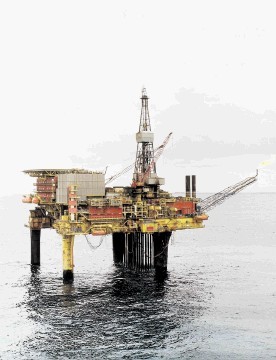 An offshore company is investigating a second oil leak just weeks after a 9-tonne spill was reported at the same North Sea site.
Fairfield Energy has discovered a second leak at its Osprey field 120 miles north-east of Shetland.
An 8.7-tonne spill from the site was reported on July 10 and two Osprey wells were shut off.
The second leak was discovered while a remotely operated vehicle (ROV) was being used to assess repair work carried out after the initial spill. The Osprey field is a multi-well operation which feeds back to the Fairfield-owned Dunlin Alpha installation.
A Fairfield Energy Ltd spokeswoman said last night: "Fairfield Energy confirmed that an ROV survey, carried out following repairs to the company operated Osprey subsea manifold, has identified the need for further repairs before operations at Osprey can resume.
"As it will take some time to source the equipment required to complete these repairs the Osprey manifold and its associated pipework will be filled with seawater.
"The two Osprey wells will remain closed in until this work has been completed."
Investigations are ongoing but the latest spill is estimated to be in the region of "tens of kilogrammes".
The UK government's Department of Energy and Climate Change (DECC) previously said that there would be no impact to the environment as a result of the 8.7-tonne spill.
A spokeswoman for the Scottish Government said last night: "Scottish Ministers are aware of a release to the north sea of crude oil from the vicinity of the Osprey subsea manifold.
"This incident is ongoing and we are monitoring the situation.
"The Scottish Government's key role is to assess the impact on the marine environment, which is currently expected to be minimal. Marine Scotland is maintaining daily contact with the UK Department of Energy and Climate Change and will continue to update that assessment as the response to this incident continues."