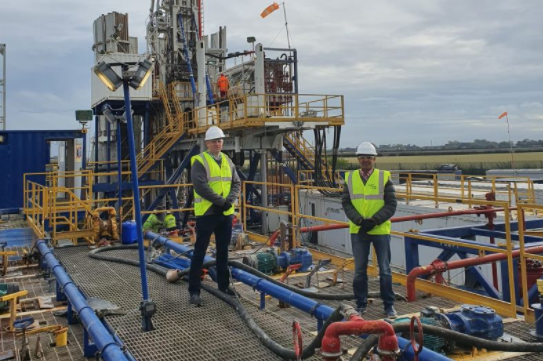 London-listed Reabold Resources said today that new drilling operations "further suggested" the West Newton field in east Yorkshire is the largest UK onshore oil and gas discovery since the 1970s.
Reabold, an investor in upstream oil and gas projects, said results from the West Newton B-1Z side-track well had exceeded pre-drill expectations, indicating a particularly extensive accumulation with good reservoir continuity.
It could be the largest onshore find since Wytch Farm in Dorset in 1973.
The company said drillers encountered a 62-metre hydrocarbon bearing reservoir.
The overall hydrocarbon column in the accumulation is estimated to be at least 118 metres, while oil-water contact is yet to be encountered.
The initial petrophysical data obtained from the West Newton B-1Z well "correlates positively" with the results from the West Newton A-1 conventional discovery well and A-2 appraisal well, Reabold said.
It holds a 56% stake in West Newton via its 59% shareholding in operator Rathlin Energy, which, in turn, has a 66.67% interest.
In addition, Reabold has a 16.665% direct licence interest in PEDL 183, which it acquired from Humber Oil and Gas earlier this year.
Stephen Williams, co-CEO of Reabold, said: "We are delighted to be able to announce another significant discovery at the West Newton field.
"The B-1Z well has indicated substantial areal extent by discovering the Kirkham Abbey, located 2.5km from the previous A-2 discovery.
"With better-than-expected porosity and a positive comparison versus the A-2 well, the B-1 well has significantly increased the size of the observed hydrocarbon column, and we are yet to encounter an oil water contact demonstrating the potential for further upside."
Sachin Oza, co-CEO of Reabold, said: "West Newton continues to surpass expectations and we are confident that it will be the largest onshore UK discovery since 1973.
"With more analysis to be done, we believe that these indications augur extremely well for the future of the West Newton project, which has the potential to be a meaningful and crucially local source of hydrocarbons for the Humber region."
David Bramhill, executive chairman of Union Jack Oil, the other licence partner, said: "The initial results of the WNB1Z appraisal well exceeded our expectations.
"There remains an extensive number of technical studies to be carried out to complete analysis of the WNB1Z well data, including correlation of the A1, A2 and B1Z well results and updated resource volumetric estimates, all of which will have a bearing on the planning and timing of the testing programme which is the next important milestone in determining the development potential of the West Newton project.
"The preliminary results from this well vindicate Union Jack's faith and financial commitment over the past two years to what Union Jack's management has always believed to be an exceptional UK onshore hydrocarbon enterprise."
Recommended for you

Reabold receives offer for 49.99% stake in Corallian, including Victory project