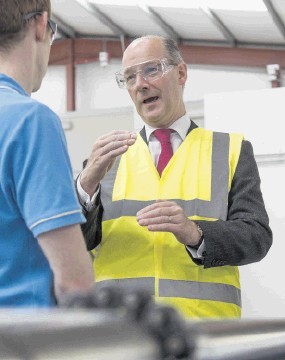 A pair of north-east energy service businesses have taken a share of £5million of funding to spur on growth plans.
Red Spider and ROVOP were among four Scottish firms to benefit from the Scottish Loan Fund (SLF) and which have the option to draw down a combined £9million from the scheme.
SLF – managed by private-equity firm Maven Capital Partners and part of Scottish Enterprise's Scottish Investment Bank – has now committed £15million to Scottish companies planning to grow or move into new international markets.
The latest round of funding was announced by Finance Minister John Swinney during a visit to Red Spider's workshop at Westhill.
The company said the SLF funding would help it to increase its international trade, with a focus on Europe and Asia.
Mr Swinney said: "Securing affordable finance remains a challenge for some firms and we are addressing this by providing the environment that will allow our small and medium-sized businesses to unlock new investment.
"SLF is allowing Red Spider to react to the increasingly optimistic market conditions in the oil and gas sector. It is giving the company access to increased funding when it is required and I know Red Spider can capitalise on this."
Red Spider chief executive Steve Nicol said that, after heavy investment in its technology, it was now ready to move into new international markets, adding: "SLF will help to ensure we meet growing market demand for the products.
"This type of funding is highly beneficial to finance small high-growth technology companies in need of working capital. Banks have not been in a position recently to lend the funds that are needed by the industry, which is why Red Spider took the initiative to apply for funding from this alternative route."
Another Westhill firm, ROVOP, said it would use its share of the SLF cash to meet growing interest in its equipment and pilot technicians for remotely operated vehicles (ROVs).
Managing director Steven Gray said: "The SLF investment will be valuable in allowing us to continue the expansion of the ROVOP business, at a time when we are seeing a high level of inquiries and have recently secured three long-term contracts for major windfarm installation projects.
"The ability to operate a modern ROV fleet of sufficient size is vital to our capacity to fulfil contracts and offer tailored customer solutions."