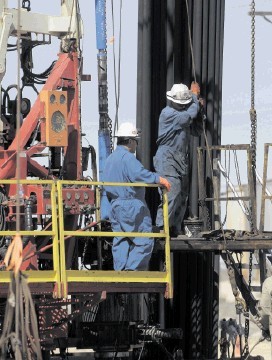 Aberdeen energy service giant Wood Group has increased its exposure to the US onshore unconventional oil and gas markets with a deal announced yesterday.
It has acquired Duval, which provides maintenance, installation and fabrication services in the Eagle Ford shale region of Texas. The deal value is understood to be more than £10million.
Duval, which was founded in 1982 and had turnover of £20million last year, employs around 300 people. It will operate as Wood Group Duval within the Wood Group PSN division and continue to be led by its existing management team.
Before yesterday's acquisition, Wood already had more than 1,000 people working on shale operations in the US.
The Eagle Ford region is said to be one of the most actively drilled US oil and gas formations. It starts at the Texas/Mexico border and extends 400 miles north-east into the US state. Reserves have been put at an estimated 3billion barrels of recoverable hydrocarbons.
Derek Blackwood, president for the Americas at Wood Group PSN, said: "The acquisition of Duval provides us with a robust platform for growth in the key Eagle Ford shale region and increases our overall exposure to the US onshore unconventional oil and gas markets."
Rene Casas, president of Wood Group Duval, said: "We are pleased to be joining Wood Group.
"Duval has achieved strong growth over recent years, and we anticipate the strong shale market, momentum in our business and the support of Wood Group will enable continued growth."
Oil and gas are both found in shale rock.
Hydrocarbons produced from shale is often referred to as unconventional, because of the rock type in which they are found.
Advancements in technology over the last decade have made shale oil and gas development economically viable.
Hydraulic fracturing or "fracking" is a technique that uses water, pumped at high pressure, into the rock to create narrow fractures to allow the hydrocarbons to flow out.
Environmental groups have voiced concerns that fracking could lead to earthquakes and contaminate drinking water in aquifers.