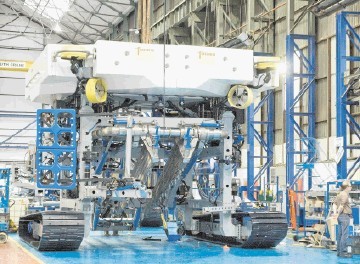 In just a few weeks, a remarkable new Fugro trenching system will start its first offshore deployment, working for Centrica on the 270MW, 75-turbine Lincs offshore windfarm.
Fugro-Salt Subsea of Aberdeen has already run a series of successful jetting and cutting trials with the first of its state-of-the-art Q1400 machines built by Soil Machine Dynamics Ltd (SMD) of Tyneside. A second system is scheduled for delivery during October.
Bourbon Enterprise is mothership to the first unit, which is as tall as a house and paired up with a workclass remotely-operated vehicle (WROV) plus full survey positioning and processing spread from the Fugro stable.
The vessel has been fitted with a dedicated launch and recovery systems for both the WROV and Q1400.
By any measure, the Q1400 sets a new standard offshore, both for the oil and gas industry and maritime renewables. It packs a massive punch and, uniquely, is equipped with a common trenching module and separate tracked jetting and chain cutting skids, plus it has a customised launch and recovery system that is rated to sea state six and can therefore operate in poor conditions without compromising safety.
This, coupled with a deck transfer skidding system, will enable mode changes at sea safely in less than six hours.
The capability to switch tasks rapidly is seen as a significant market advantage by Fugro Salt's managing director, Mike Earlam, as is its ability to carry out high-pressure water-jetting up t o 100 kilopascals, and conduct mechanical cutting up to 250/300 KPa.
"The Q1400 is an integrated unit that will work ideally in both the oil and gas and renewable markets," says Earlam. "The fact that it is capable of switching from cutting to jetting mode in less than six hours while at sea will provide an operator or a contractor an enhanced efficiency in their trenching capabilities."
Aside from being able to switch tasks rapidly, what are the key advantages of this massive crawler-trencher?
"Power and weight," says Earlam. "This system is one of the most powerful systems currently available in the market place utilising state-of-the-art technology offering mechanical cutting and jetting services from one trenching system.
"Depending on the soil conditions that you're having to trench through, we're anticipating jetting speeds in the range 250-500m per hour, which is far in excess of the capability of most units available on the market today.
"This will result in a shorter period of time on location and will actually reduce the operator's cost.
"In chain cutting mode it can accommodate products up to 250mm diameter. However, if required the system can be adapted to facilitate larger products.
There is a huge amount of available power both for cutting and jetting modes. In jetting mode it works with a pair of 400kW variable speed-drive water-pumps; plus another 300kw low-pressure water-pump at the rear of the vehicle to enable backwash/backfill.
In jet trenching mode, Q1400 has a total of 1050kW (1400hp) of available power, 800kW of which is via variable speed drive (VSD) electric motors coupled directly to the water pumps. It can trench to 3m depth in optimal soil conditions.
While the Lincs windfarm project is nearshore . . . nominally 8km off the Lincolnshire coast . . . this will be a tough job, with conditions described as "fairly heavy duty".
Earlam: "This will be a challenge as conditions are fairly heavy duty. We have to cut through some flint modules in the order of 200mm diameter. This will be a real baptism and we're confident that Q1400 will do it successfully."
However, while Q1400 will on this occasion be working in shallow water, it will be capable of free flying in jetting mode and operating in water depths to 3,000m.
This is of huge strategic importance as this means Fugro's latest system is capable of working efficiently on ultra-deepwater oil and gas developments of the kind becoming increasingly prevalent worldwide, and especially in the Atlantic.
As for Fugro Salt Subsea itself, this still new business draws on the core skills from Fugro Group. The new trenching business is born out of eighteen months of market evaluation and system design resulting in the Q1400 system, which puts the company quite literally at the cutting edge of the offshore market.