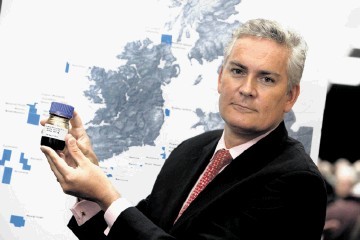 The CEO of Irish independent Providence Resources believes the company is on to a winner with the Barryroe field in the Celtic Sea.
"We think Barryroe is an elephant (billion barrels class field) and we think there will be industry elephants interested in taking a stake too, because of location," Tony O'Reilly told Energy. "The perception of it being a bad thing because it is off Ireland is all changing.
"The important thing about Barryroe is that it is located off Cork, which has the potential to be the next Aberdeen because you've already got the Kinsale gas infrastructure there.
"You've got pipelines ashore, you've got Whitegate Refinery, you've got an energy park. There's a whole industry that's been built around the successful commercialisation of the Kinsale gasfield all those years ago and it's still here today.
"In trying to develop Barryroe we would not be breaking new ground. Much has been said about Corrib, but that's in a new area off the north-west where all infrastructure will have to be built.
"The great thing about what we're looking at is that we would be adding to what Cork already has. That's a totally different proposition to the west of Ireland."
O'Reilly said that Barryroe, Spanish Point and Dunquin, all of which are in current oilfield headlines, are all part of the Providence programme rolled out last year, that is, a multi-basin programme offshore Ireland that would see the company and its partners drill six different basins.
This includes Atlantic Margin plays off the west coast, as well as opportunities in the Celtic Sea and East Irish Sea.
"The key thing about our programme and we've always said this is that in each basin that we drill, we would have one pathfinder project … appraisal or exploration … and if we proved up one it would open the way to many more opportunities.
"That was the basis on which we went and sought funds from the market and rolled out the programme.
"Barryroe was the first in the programme. I don't think it was necessarily something the market really focused on. It was an old discovery in the Celtic Sea . . . an area that had seen not a great level of success even though, right in the middle of that basin, you have one of Europe's largest gas-fields . . . Kinsale, which was successfully operated for 38 years.
"We did say that when we were defining the programme was that all we needed was one of these probes to go well and it would be transformational for us as a company."
And so it was when, in March, O'Reilly announced a drilling result for Barryroe that was far in excess of expectation. No more drilling of Barryroe is needed at this stage.
Six wells have been drilled on the structure in total, plus the company has reinforced earlier 2D seismic with fresh 3D.
"This has been key to opening a door to our understanding of the field, especially concerns about reservoir compartmentalisation," said O'Reilly, likening the difference between 2D and 3D to an x-ray versus CAT-scan.
"Visualisation has shown the field to be less complex than initially feared. Suddenly we could image the basal sands across the whole area. We could identify faults but at the same time demonstrate that there wasn't the density of faults that had previously been believed by various people."
The upshot is that this will make the drilling of horizontal production wells easier than originally thought.
Another myth that the past year's work has laid to rest with Barryroe is crude quality.
"Barryroe was a big discovery that was never developed because it had a relatively high wax content," said O'Reilly.
"People thought, ah, viscous, difficult to handle and so-forth even though many fields worldwide with a waxy content have been successfully developed. Beatrice is a North Sea example.
"The biggest surprise was the quality of the oil in the reservoir. Permeabilities and porosities were on the upside; but it was the oil's viscosity of less than one that really made us feel incredibly positive about the ability to take it out of Barryroe.
"Water has a viscosity of one centipoid, so the fact is that Barryroe oil is more mobile in the reservoir than water. That has huge implications in terms of how you operate this field.
"In fact, Mother Nature has given us a very sweet mobile crude that comes to the wellbore very quickly. Once you get it there it becomes easy to lift out."
As for likely recovery rates, the original estimate from 30 years ago was 16% . . . maybe. But the industry has come a long way since. North Sea averages are 35-40% and rising over time.
"I don't actually have a hard number right now," said O'Reilly. "We're creating the dynamic model to quantify the recoverable and that will impact on the field development plan which we're working on. Whoever we get as a farminee will also help to define recovery rates."
But will it be one or more large independents, or a major, or even a national oil company? That will have a huge bearing on the approach and scale of development, ergo recovery rates.
"We have 80% equity in this field," O'Reilly said. "The art is to maximise the return for our shareholders by holding on to as much equity as we can, yet avoiding capex exposure.
Recommended for you
X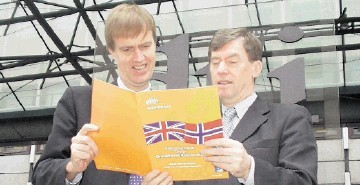 Striving for "One North Sea"