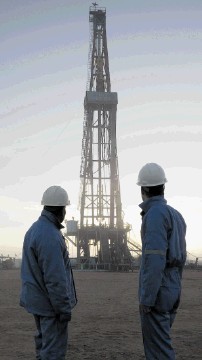 Irish oil and gas explorer Petroceltic International has moved to buy Scottish firm Melrose Resources in a £165million deal.
Petroceltic said yesterday it wanted to buy the Edinburgh business to boost its presence in north Africa and the Black Sea.
The acquisition, which has been approved by the boards of both operators, would create a business with 441million barrels of proved, probable and contingent reserves.
While Melrose is focused on north Africa – including Egypt – and eastern Europe, Petroceltic operates in Algeria, Italy and the autonomous Kurdistan region of Iraq.
Petroceltic chief executive Brian O'Cathain – who will remain head of the new company should the acquisition go through – said the deal was "totally in line with our strategy to expand in the Middle East, north Africa and in the Black Sea".
Melrose chairman Robert Adair said the deal would create a competitive exploration and production company.
Mr Adair said: "The enlarged group will have a strong, highly-experienced management team with a good blend of operating skills to maximise the value of these assets and pursue additional business development opportunities."
Petroceltic said it had received commitments from Melrose's largest shareholder as well as some directors, who together own more than 52% of the company's outstanding shares, to vote in favour of the deal.
One analyst was underwhelmed by the offer however, and said it did not represent good value for Melrose shareholders.
Under the terms of the deal, Melrose shareholders would receive 17.6 new Petroceltic shares for every Melrose share.
They would also receive a special dividend of 4.7p per share.
"We do not see this as a particularly good deal for Melrose shareholders," said Oriel Securities analyst Richard Griffith.
Melrose's stock rose by as much as 6% in early trading yesterday, but gave up much of the gains to close up a penny at 136.5p.
Petroceltic's shares closed down 9% at 7.44p.