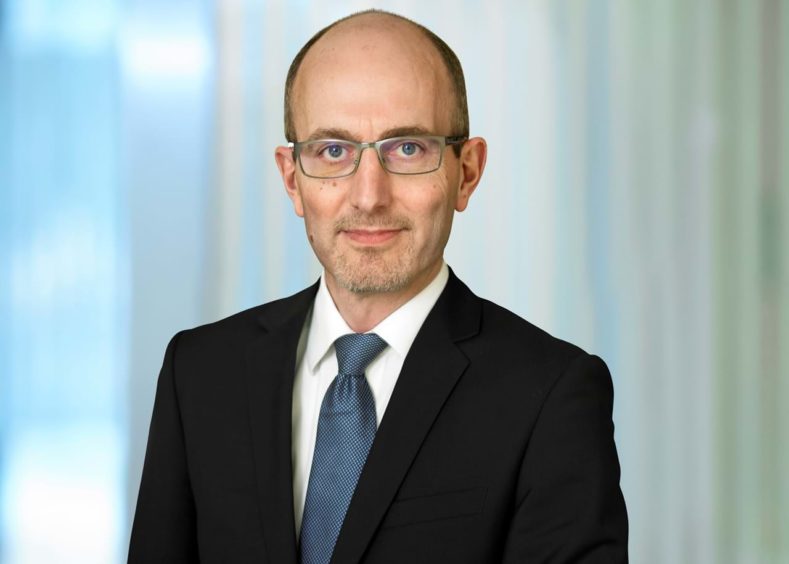 The chief operating officer of Maersk Drilling thinks companies like his taking "skin in the game" will be the future of the sector, moving away from commercial deals that put most of the risk on operators.
Morten Kelstrup said the traditional contract, the use of day rates, whereby operators would take "effectively take all the risk" if work is delayed and costs overrun, doesn't sustain the needs of either party.
That day rates model, described recently by Boston Consulting Group as "primitive", means "the incentives are simply not there to induce more efficient operations" according to Mr Kelstrup.
Instead, deals like one it signed with OMV this month for the low-emission Maersk Integrator rig, with performance bonuses linked to carbon intensity, will be more the norm going forward.
That approach, Maersk Drilling hopes, will help it fight on several fronts: producing affordable fuels, tackling climate change, and, crucially, turning a profit.
Mr Kelstrup said: "We don't mind taking skin in the game and that means if we are not performing up to the expectations, we will not get full pay either.
"On the other hand, if we're exceeding expectations we also expect to reap some of the additional value we are delivering.
"We also need to improve our returns as a business. It is both upstream and in the supply chain that you need to improve financial returns.
"The beauty of it here is that it actually works on the sustainability side as well. If we are efficient on the well, we will save emissions on behalf of ourselves and the customers."
It comes as the drilling sector has been particularly hard hit by the downturn as projects have dried up.
Many of Maersk Drilling's competitors – Transocean, Valaris, Noble, Diamond, Pacific Drilling, the list goes on – have entered restructuring processes such as Chapter 11 Bankruptcy.
That's not to say the firm has been immune to the effects of Covid. Maersk Drilling has cut 170 jobs this year, taking its onshore headcount in Aberdeen from around 35 in May down to 15 currently.
Despite the pandemic, the firm is now "seeing the pipeline building" in the North Sea – where it employs around 850 workers offshore – and globally, according to Mr Kelstrup, with the OMV contract being one example.
Focussing on building commercial models around what their customers are prioritising – such as reducing emissions – means they could continue to stamp out inefficiencies, he said.
"I still believe there's a lot of inefficiencies in there and I would not be surprised if we can, over time, halve the time and the resources spent on drilling a well.
"That would do a lot for the financial wellbeing of the participants but also to mitigate the footprint on the environment.
"It's a little bit ironic that we actually see this as a good year for our strategy, smarter drilling for better value.
"More and more customers understand that if we sit together early in the process we can find models that fit their purpose a lot more better and gives us the right incentives to meet those drivers and needs in a better way, where they make more money and we make more money."
The market remains heavily saturated, however, and it is hoped the widespread restructuring in the sector will lead to older vessels being scrapped, helping improve demand.
Though he is reluctant to be drawn on discussion of his competitors, re-estabilising the market is something Mr Kelstrup recognises as a requirement.
He added: "It's clear it's still a market where there's too much supply of rigs in parts of it, so we still see a need for consolidation and scrapping of rigs to help balance supply and demand in a better way."