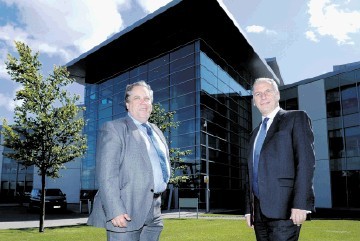 The board of the Scottish Council for Development and Industry (SCDI) met in Aberdeen yesterday to discuss how to prioritise investment for the city's energy industry.
Oil major BP hosted the directors of the Scottish business-development organisation, who normally meet in Glasgow.
SCDI – which represents around 1,200 private, public and third-sector organisations across the country – said that increasing investment in the North Sea was on the agenda, plus Scotland's low-carbon, renewable and nuclear energy sectors.
The organisation's chairman, Robert Armour, said: "Over the last 40 years, the Scottish economy has benefited immensely from the remarkable investment and success of the offshore oil and gas industry and the transformation of Aberdeen into a world-class oil and gas hub.
"This is a success which SCDI has promoted and supported from the outset, and our north-east office, committee and membership in the area are strong voices for the regional economy and ensure that its priorities are fully appreciated nationally.
"It is clear that, for the Scottish economy to grow, internationalise and rebalance as it must, attracting investment into the North Sea and anchoring the oil and gas supply chain in the north-east will be essential."
BP's regional president for the North Sea, Trevor Garlick, said: "It was a privilege to welcome the SCDI board members to BP's Aberdeen headquarters.
"The energy sector continues to be of huge significance to Scotland's economic future, and by definition so is the north-east. BP is doing its bit by spending a record £3billion this year sustaining its North Sea business and investing efficiently in its future."