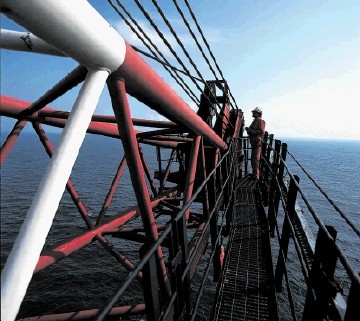 Aberdeen company Sparrows said yesterday it had won a milestone crane-inspection contract for the world's largest offshore drilling company, Transocean.
Sparrows, which describes itself as a world leader in offshore lifting and mechanical-handling services, has landed a global agreement worth several million pounds annually.
The Granite City business said it would be involved in management and servicing of Transocean's offshore cranes on all of its mobile offshore drilling units outside Norway.
The open-ended contract takes in 432 deck cranes on 121 of Transocean's mobile offshore drilling units.
The work will be managed globally from Aberdeen by the Sparrows drilling business unit.
Sparrows said eight onshore engineers will be regional focal points to service the Transocean agreement, based in the UK, US, Brazil, Middle East, Singapore, Indonesia, India and Australia.
There are also 20 onshore and 40 offshore workers supporting the inspections across the globe.
A spokeswoman said the group was adding more than 200 posts worldwide this year as a result of its growth.
Mark Beveridge, Sparrows' drilling business unit leader, said: "This is a major milestone agreement for us and for Transocean, with whom we have been working for some time.
"Regular planned crane inspection is the only way to assess integrity and ensure the equipment is fit-for-purpose, safe, reliable and compliant.
"Working closely with Transocean, we designed a regime that provides a common global standard, delivered at a local level.
"The success of securing of this agreement will inevitably pave the way for similar work with other drilling companies."
Sparrows employs 1,600 people in 19 locations.