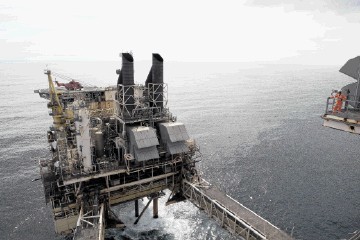 Oil giant BP is making a fresh £100million investment in UK waters as part of its focus on operating big fields with growth potential, we can reveal today.
The group is to buy Total's interests in the Etap complex in the central North Sea.
The deal includes a stake of more than 3% in the Etap central processing facility and around 12% of the Mungo field.
The sale is expected to go through in the final quarter of this year and will increase BP's holding in the central processing facility to 57% and leave it with a stake in Mungo of 82%.
Etap (Eastern Trough Area Project) takes in nine fields and ranks as one of the largest North Sea oil and gas projects in 20 years.
BP has substantial stakes in most of the nine fields, which have total daily production of about 38,000 barrels of oil equivalent.
The oil giant declined to comment yesterday on the deal.
A spokesman for Total confirmed the disposal and said it was for an undisclosed sum.
He added: "This is part of a wider divestment programme we are undergoing of small, non-operated North Sea assets, which between them have estimated reserves of about 22million barrels of oil equivalent.
"This is because, at a time when we are developing a third production hub centred on Laggan-Tormore and moving forward on several other fronts, we want to focus on our operated assets and developments."
Meanwhile, BP's focus on big fields is leading to asset sales.
In June, the company said it was selling minority stakes in two UK North Sea fields for £179million.
The 13.3% stake in Alba and 8.97% holding in Britannia were being acquired by Mitsui and Co, of Japan.
More disposals of non-operated North Sea assets are expected to follow.
These would include the 27.7% stake in Braes and 27.5% holding in Shearwater.
Last year, BP sold operatorship of the Wytch Farm asset in Dorset to Perenco for £376million.
The company is also to sell its southern North Sea assets to Perenco for £256million.
BP continues to be a major investor in the North Sea, with current production of around 200,000 barrels per day. It expects to invest around £6.7billion over five years in the area, including major UK and Norwegian projects.
Four major developments are under way in the UK – Clair Ridge, Quad 204 (Schiehallion), Devenick and Kinnoull – plus Skarv and the Valhall redevelopment in Norway.
Recommended for you

Neptune Energy more than trebles year-on-year Q1 profits