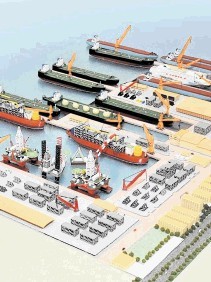 In a series of large and complex multi-billion dollars deals, Petrobras appears to have completed the ordering of 21 deepwater drilling rigs, with all units to be built at yards in Brazil with local content said to be in the range 55-65%.
Contracts have been drawn up with Sete Brasil, Odebrecht, and Etesco to charter and operate nine drillships.
Once they have been constructed, the rigs will be chartered by Petrobras for 15 years.
All must be capable of operating in water depths to 3,000m and of drilling wells to 10,000m depth.
Six of the new vessels are to be constructed in Maragogipe, Bahia state, at the Enseada Paraguacu Shipyard.
Four of them to be operated by Odebrecht and the other two by Etesco.
The last three in this group are to be build at the Rio Grande 2 Shipyard in Rio Grande do Sul and are to be operated by Etesco. Both yards are presently constructing facilities to carry out the huge packages of work.
Petrobras said that the delivery of these nine drillships is expected to begin in 2016 and all will be used for deployment on pre-salt targets in the Santos Basin, including the Rights Transfer areas.
Six more drillships and six further semi-submersibles are to be built by Estaleiro BrasFELS and Estaleiro Jurong Aracruz.
The drillships will be operated by Norwegian drilling contractors Odfjell and Seadrill … three each.
Three of the semi-submersibles are to be operated by Queiroz Galvao, two by Petroserv, and one by Odebrecht.
While no total cost for the 21-rig programme has been divulged by Petrobras, the company has said previously that the various rigs on order will work for an average dayrate of $530,000.
Petrobras said that the 12 rigs package is also scheduled for 2016 and will be held under charter for 15 years. They too are to target pre-salt.