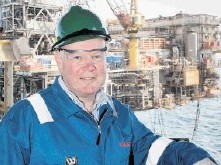 UK Energy Minister Charles Hendry became a shock casualty of the coalition government's reshuffle last night.
Prime Minister David Cameron sacked the popular MP as part of his first major cabinet shake-up since coming to power in 2010.
John Hayes will now become the 13th energy minister in 15 years, after the department's revolving door spun again.
The middle-ranking brief – under Energy Secretary Ed Davey – includes responsibility for the oil and gas industry, as well as nuclear and renewable energy.
Mr Hendry regularly travelled to Aberdeen for talks with bosses in the North Sea sector, building a strong relationship despite the coalition's shock £10billion tax raid on producers last year.
Malcolm Webb, chief executive of industry body Oil and Gas UK, said: "He was a well liked and well respected energy minister.
"Of course, we will look forward to meeting his successor."
Labour's shadow energy minister, Tom Greatrex, said on a social networking website last night that sacking Mr Hendry was a "poor call" by Mr Cameron.
Mr Hayes is the Conservative MP for South Holland and The Deepings, and was previously minister of state for further education, skills and lifelong learning.
One of a number of Eurosceptic right-wing Tories promoted in Mr Cameron's reshuffle, his voting record shows that he has opposed gay rights, Lords reform and EU integration.
He has spoken out against windfarms in the past. In 2009, Mr Hayes was quoted as saying: "Renewable energy needs to pass the twin tests of environmental and economic sustainability and wind power fails on both counts."
One of his first major tasks will be overseeing the government's new energy bill, as well as tackling ongoing rows over subsidies for renewable energy and nuclear power.
Just weeks before the 2010 general election, Mr Cameron vowed to deliver stability at the department for energy and climate change, after several Labour reshuffles.