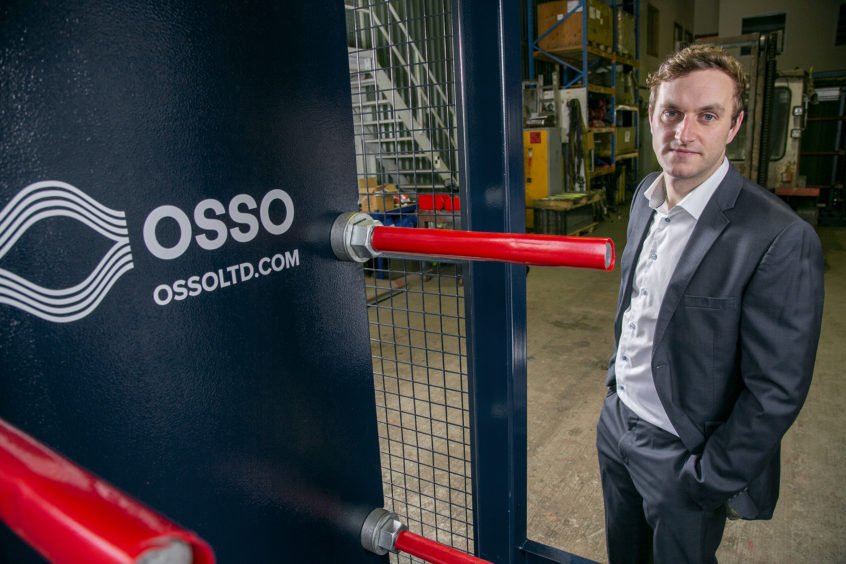 Centrifuges Un-Limited has rebranded to "OSSO" and appointed a new chief executive as part of a major growth drive.
The Aberdeen-headquartered oilfield equipment specialist has appointed James Scullion, a former Ferguson Group boss who joined Centrifuges last year, in the top job.
It comes 12 months after Linton Investments, the investment vehicle of the Ferguson family, acquired Centrifuges.
The Centrifuges rebrand to OSSO, and Mr Scullion's appointment, comes as the firm plans a move to triple revenues over the next five years.
To do that, OSSO plans to diversify beyond offshore oil and gas to other industrial sectors including construction.
Mr Scullion said: "We've taken the year to get our feet under the table of the business and take stock, really understanding how it operates, understanding and getting to know the team a little bit better.
"We feel that it's important to have a balanced portfolio for the business going forward. Centrifuges has always been historically focussed on offshore oil and gas, which is obviously proving challenging given the cyclical nature of the business.
"It's always been cyclical but they seem to be coming thick and fast now, so we feel it is important to balance the portfolio with more industrial and construction sectors."
Mr Scullion underlined that OSSO will continue to have a "very big focus" on offshore oil and gas going forward.
The firm, which employs around 15 people at its Aberdeen base in Dyce, expects that figure "to grow quite significantly" with the expansion drive.
That includes plans to boost international growth, with those markets currently accounting for between 30-40% of the firm's total revenues.
OSSO currently focusses predominantly on the UK, Norway and the Middle East, offering operators specialist mechanical separation and heat transfer solutions to lower waste streams, enhance drilling efficiencies and reduce rig time to minimise environmental impact.
"We expect to be putting our roots in further to those areas as well as other international locations", Mr Scullion added.
Centrifuges Un-Limited was incorporated in 2002 by founder Jim Shiach, who was at the helm for more than 17 years until announcing he would stand down as managing director following the Linton deal.
The name change from Centrifuges to OSSO comes as part of a drive to highlight the diverse range of services and products the firm offers.
Mr Scullion added: "We've come from one very descriptive name in Centrifuges Un-limited, which really describes what it does.
"One of the first things we realised was that it really only accounts for a reasonably small proportion of the product offering and services that we do. Hence we wanted to make it purposefully abstract.
"We feel it fits the young, agile and diverse and fits the brand better for what we've got planned for it."
Recommended for you

Aberdeen-headquartered OSSO branches out into construction sector