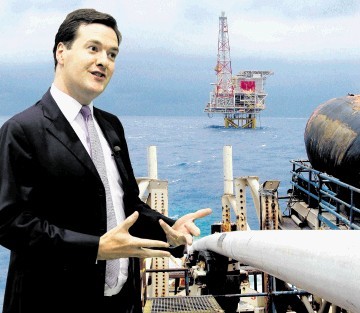 George Osborne has stepped in to ease the tax burden on ageing UK oil and gas fields – a move which could unlock £2billion of new investment.
The under-pressure chancellor announced yesterday that income from older sites would be spared full duty to ensure they were fully exploited.
But last night he was told he still had work to do to win back the trust he damaged so badly with his £10billion tax grab last year.
The new brown field allowance will shield up to £500million of income from the charge when firms are boosting production from established oil or gas fields – potentially cutting their tax bill by £160million.
The move is expected to cost the Exchequer £100million a year initially, but officials insist long-term tax revenues will be significantly higher.
"The oil and gas sector is a success story that Aberdeen and the north-east of Scotland are rightly proud of, and this announcement of a tax allowance aimed at mature fields is a further boost," Mr Osborne told the Press and Journal. "I'm determined that we get the most of the North Sea, a huge national asset. Taken together, industry believe that the steps we've taken over recent months – including new field allowances and long-term certainty on decommissioning relief – will generate billions of investment and thousands of new jobs."
The announcement could attract at least £2billion of investment in the short term and is a step towards a potential 50 years of further activity in the North Sea, according to industry body Oil and Gas UK.
Economics director Mike Tholen said: "I'm aware that in the short term there are some very substantial projects waiting for this announcement, and I'm very confident there will be some big investments announced in the short term."
First Minister Alex Salmond said: "After imposing the draconian supplementary tax on Scotland's North Sea industry, it seems the chancellor is finally recognising the vital importance of the oil and gas sector."
Tom Cartwright, a member of law firm Pinsent Masons' energy team, said: "Trust, once broken, is hard to replace."
Recommended for you

ESG finance poses risks but offers plenty of sustainable opportunities