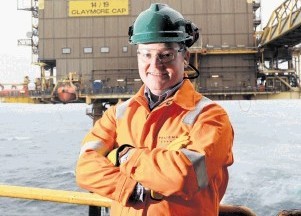 Chinese investment in the North Sea was a long time coming; no activity for decades then two deals on the same day.
July 23 saw Sinopec confirm a £956million move for 49% of Talisman Energy's UK assets, while China National Offshore Oil Corporation made a £9.6billion takeover approach for Nexen.
One businessman seeing at first hand the Chinese arrival in British waters is Geoff Holmes, senior vice-president at Talisman Energy (UK).
Although he said he did not know the Nexen deal was also on the cards, the 44-year-old is sure the Sinopec joint venture will reap rewards for both Talisman and the wider UK oil and gas sector.
He said: "Our staff have known we were looking at a range of options for the business, and to be able to land our preferred option, which is a joint venture with a company of Sinopec's size and wealth, is an absolutely fantastic outcome.
"The joint venture will spend more as a partnership than Talisman would have on its own, and reinforces Talisman's long-term commitment to the North Sea. Having a 51% share of the investment and profits from a bigger pie is something that is very attractive to us.
"It is certainly exciting to be thinking about growing production rather than holding it steady, which was our strategy before this deal."
Talisman has stakes in 46 North Sea fields, and operates 11 platforms plus the Flotta oil terminal in Orkney, but Mr Holmes did not rule out adding to those interests with Sinopec's involvement.
He said: "As part of the joint venture, Sinopec is interested in looking at further acquisition opportunities. We will be investing in the assets we currently operate through drilling and exploration, but we will also look at investment opportunities that may come our way."
Although Sinopec might be a newcomer to the North Sea, Mr Holmes has built his career on both the operating and service sector in the region.
The former Aberdeen University student joined Chevron after graduating, rising through the ranks to become an offshore installation manager before joining KCA Deutag, where he ran the drilling contractor's UK and Norwegian unit.
Although moving from the operator side to a service business and then back again is unusual, Mr Holmes said it gave him a superior perspective, adding: "It gave me a much better idea of how both sides work.
"I was dealing with contractors and operators at a senior level, which was extremely valuable, but when the opportunity came up to work with Talisman on the operator side of the fence again it was too exciting to turn down."
The London-born businessman, who was brought up at Banchory, where he lives with wife Suzanne, said a recent UK Government tax break was also creating some excitement in Talisman's Aberdeen office.
Mr Holmes, who has three daughters – Sarah, 18, Laura, 15, and 11-year-old Katie – said the brownfield allowance would enable Talisman's £1.6billion Montrose area redevelopment to go ahead.
Talisman already employs about 2,800 people either directly or through contractors but Mr Holmes said the project, which involves unlocking two fields with a new installation linked to its Montrose platform, would either support or create a further 2,000 jobs.
He said: "The brownfield allowance was fantastic news for us. We have been working hard for over a year with the UK Government, Treasury, Department of Energy and Climate Change and Oil and Gas UK to create a compelling case for this allowance.
"It was the final piece of the puzzle for Talisman to move forward and fully sanction the project. Our footprint needs a lot of people to run it, and it is going to get bigger."