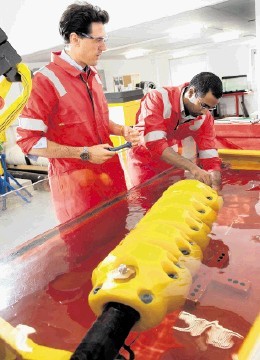 Aberdeen company Flexlife said yesterday it had completed onshore and offshore trials of its Armadillo technology for Petrobras Brasil with local operational partner Oceanica Diving Services.
The Scottish oil service firm has invested around £200,000 into the Armadillo technology to date. It is designed to repair damage on the outer sheath of flexible risers by creating a seal that will prevent seawater entering the riser and leading to corrosion.
Leonardo Dias, Flexlife's executive manager for Brazil, said: "The successful trial marks the first offshore operation in Brazil performed by Flexlife.
"We have a team of engineering, technical and support staff who are all highly experienced in the Brazilian oil and gas market and we are all are very proud to be working with Petrobras.
"The potential is enormous for us and it is very significant for the future of Flexlife in Brazil."
Amec has made an acquisition in Brazil.
It is buying a 50% stake in Kromav Engenharia from its owner-managers for £7.6million in cash.
Kromav is an offshore oil and gas and marine engineering company based in Rio de Janeiro, specialising in engineering services for platforms, floating production vessels and other marine applications.
Amec said combining Kromav's local reputation and engineering expertise with its international major project delivery capability would support its Vision 2015 strategy to develop fully integrated service capabilities in Brazil.