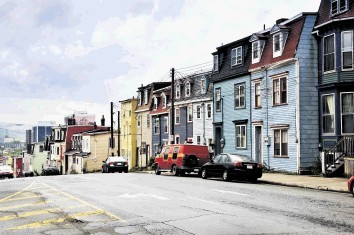 Shoal Point Energy and partners have discovered a thick and extensive shale oil play at Shoal Point on and offshore western Newfoundland's Port au Port Bay.
Reserves are estimated at 23billion barrels oil equivalent . . . far more than the collective reserves of offshore Newfoundland fields currently producing, under development or future development prospects.
Speculation is already mounting that Shoal Point could become the next great North American shale play, and Shoal Point Energy holds by far the largest stake in the area.
The company is reported today to be trying to determine the most viable means of exploring and developing the massive Green Point Shale formation, which is thought to extend offshore from the Garden Hill area block EL1070's eastern area to onshore, where it covers an area of approximately 24sq km in the northeastern part of PL2002-01.
Shoal has indicated that land-based drilling may be the answer, with extensive use of extended reach drilling and hydraulic fracturing. Drilling from offshore platforms in the shallow water area of the bay is also being contemplated.
George Langdon, Shore Point's CEO, said: "It's a bit of a wild frontier still. There's a lot of oil in place. We haven't proven the viability of it yet. But just the sheer number of what could be in place there makes it, to me, one of the significant resources in North America, right up there with the big ones."
The key difference between Green Point Shale and other North American shale formations is that it is several times thicker and the rock has been jostled by tectonic movement, so complicating potential exploitation.
"The shale is really broken up quite a bit and when a shale is broken like that, it can be very difficult to drill," said Larry Boyd, director of geoscience at Deloitte's Calgary office, which has been contracted to evaluate the potential at Green Point, where Shoal Point owns some 280,000 hectares across the three blocks containing the formation.
Toronto-based Shoal Point, which has only a dozen or so employees, has to date drilled two wells in the formation, both from land, the discovery well and another that penetrated the shale but has not yet been successfully tested.
"We think this play is big enough, has potential resources enough to attract the largest oil companies in the world," said Langdon, who is seeking farm-in partners.