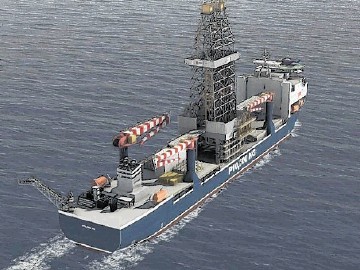 Rowan is to press ahead with the construction of a fourth GustoMSC P10,000 design ultra-deepwater drillship at Hyundai Heavy Industries of South Korea.
The vessel has a price tag of some $620million, including commissioning, project management and spares, but excluding capitalised interest.
According to Rowan, this cost compares to broadly similar tonnage built by other drilling contractors.
The agreement with HHI also includes an option for a similar fifth drillship exercisable during the current quarter. Units four and five would both be delivered in 2015, assuming there is no slippage during the build programme.
Rather than equip the five sisters with the currently more usual 3,048m (10,000ft) of drilling riser, the company intends to put 3,658m (12,000ft) of riser aboard at the time of delivery
Each sister will also be equipped with a second BOP (blow-out preventer) for minimising non-productive time.
Expected costs for the additional 610m (2,000ft) of riser, BOP and training and ramp-up is expected to be around $75million.
The fourth sister is expected to cost 6% more than the three prior orders, primarily due to equipment price increases and projected labour cost increases.
Rowan intends that its new drillships be capable of drilling wells to 12,192m (40,000ft) depth. The DP-3 compliant, dynamically-positioned units will be equipped with retractable thrusters, dual-activity drilling capability, five mud pumps, dual mud systems and a maximum hook-load capacity of 1,250 long tons.
Each will also be equipped with a seven-ram BOP incorporating full acoustic backup control and storage and handling facilities for a second BOP. Three 100-ton knuckle boom cranes will be fitted, plus an active-heave 165-ton crane for simultaneous deployment of subsea equipment.
There will be accommodation for 210 personnel and the variable deckload capacity will be some 20,000 tons.
Matt Ralls, president and CEO of Rowan said when announcing the orders: "We are very pleased to add a fourth ultra-deepwater drillship to our fleet.
"The recent three-year contract obtained for our first drillship, the Rowan Renaissance, and strong customer enthusiasm for Rowan's history of operational excellence, high-specification drillship design and experienced deepwater team, reaffirms our confidence in our expansion into the ultra-deepwater market."
Construction of the Rowan Renaissance began in July and the ship is scheduled for delivery late next year.
The second and third drillships are expected to be delivered in the second and fourth quarters of 2014, respectively.
Once commissioned, they will make a major difference to Rowan, which is perhaps best known for its high specification, large Gorilla-class jack-ups.
The company's fleet of 31 jack-up rigs is located worldwide, including the Middle East, the North Sea, Trinidad, Southeast Asia and the Gulf of Mexico.