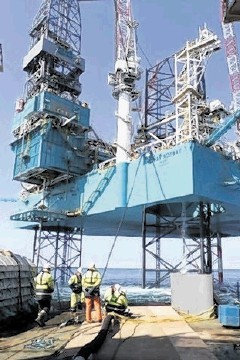 At the end of last month, 10 E&A wells were active on the UKCS: five exploration wells – including one from platform facilities – and five appraisals.
The number of spuds to date in 2012 amounts to 27 wells (14 exploration and 13 appraisals) with a further 13 geological or mechanical sidetracks having been kicked-off, three re-spuds and two re-entries.
The Central North Sea (CNS) accounts for the majority of E&A activity with six wells active, two in the Northern North Sea (NNS) a single well West of Shetland (WoS) and none in the Southern North Sea (SNS).
The number of mobile units in the UK sector, whether on E&A, development/production drilling (18) or other duties, such as workovers and abandonments, is 38, only two of which remain stacked in port.
Helping with the drilling of 34 development/production wells, including batch-drilling operations, are six platform rigs, with one – North Cormorant – drilling the Contender exploration target.
The West Phoenix semi-submersible is just weeks, if not days, away from commencing development drilling on Total's Tormore gas-condensate field, which is located in the West of Shetland area.
o Central
Maersk is drilling Brochel appraisal 15/18a-13 with the Noble Ton van Langeveld, the Galaxy 2 remains with Centrica on the 21/20d-8 Bligh appraisal, BG is progressing White Bear exploration well 22/4b-6 (Upper Jurassic HP/HT) with the Rowan Gorilla 6 and Apache continues its sidetrack operations on the shallow Pleistocene Crenulate (formerly Aviat) appraisal.
In the south of the province, Maersk continues operations in Ockley appraisal sidetrack 30/1d-12Z with the Ensco 101 and, most recently on September 19, Suncor spudded (re-spudding six days later) the Upper Jurassic Romeo exploration well 30/11c-6 with the WilHunter.
Nexen with the GSF Arctic 3 suspended the second sidetrack of its Buzzard (North) appraisal, 20/1-12Y, after 31 days with 15 spent at TD (total depth), while the WilHunter suspended Ithaca's 29/10b-8 Hurricane appraisal (Palaeocene flowing up to 24million cu.ft of gas and 1,200barrels of condensate per day, with additional Eocene potential) prior to the rig's move to Suncor.
o Northern
Total re-entered Fettercairn 3/15a-15 on September 6 to resume drilling operations on the Middle Jurassic prospect with the Sedco 714, It was originally suspended when the rig was diverted to Elgin field. In mid-September, Taqa spudded 211/21-N94 from the Cormorant North platform, directionally drilling into the Middle Jurassic Contender prospect on block 211/22a. Xcite announced production of nearly 150,000 barrels of heavy oil from the long-term test of Bentley wells 9/3b-7 and 7Z; the Rowan Norway jack-up is suspending operations prior to a stay port before moving to Norway.
o Southern
The Southern Gas Basin is devoid of exploration or appraisal drilling although by no means lacks development/production activity, with six jack-up units currently employed on drilling operations on Babbage, Breagh, Clipper South, Ensign, Katy and Tyne North fields. New to the UK sector, jack-up Swift 10 is likely to commence drilling operations for Shell on the Denver exploration prospect in Block 49/20a during October.
o West
West of Shetland, Total's Palaeocene Tomintoul exploration well 205/9-2RE was abandoned dry at the end of August. The rig West Phoenix then moved to drill the top-hole section of Total's Lower Cretaceous Spinnaker exploration well 206/4a-3, before temporarily suspending on September 23 after 22 days to enable it to prepare for imminent Tormore development drilling.
The drillship Stena Carron continues deep-water operations on BP's Upper Jurassic North Uist/Cardhu 213/25c-1, the fourth sidetrack "W" being kicked-off in the mechanically-troubled programme on 23 August. Although unconfirmed, volcanics may have impeded progress.
West of Britain, the first E&A activity in the shallow waters of the East Irish Sea Basin since May 2010 is just days away – weather permitting – as the jack-up Noble Byron Welliver prepares to drill Centrica's Rhyl North appraisal on block 113/27b.
With three quarters of the year gone UKCS E&A spuds are up almost 23% on 2011 and while appraisal drilling increased by just over 8%, exploration drilling shows a 40% lift.
While any increase is encouraging for the sector, an argument exists for promoting appraisal of existing discoveries over new exploration at this time.
It is a safe bet that 2012 E&A levels will outstrip 2011, but by how much will depend on the proportion of quick, shallow Tertiary wells versus deeper wells, especially HP/HT, that tie up rigs for months. We see the tight rig market set to continue with day rates already looking higher for 2013 and beyond.
o Norway – Johan Sverdrup continues to shapes up
Six E&A wells are currently active in the Norwegian sector . . . four exploration and two appraisals. The 24 spuds to date this year comprise 18 exploration wells and six appraisals. Of the 34 mobile drilling units in Norwegian waters, while none are stacked, five rigs are being readied for drilling contracts.
Four wells are active in the North Sea, two of which are exploration: Det Norske's 7/11-13 on the Triassic Geite prospect with the Maersk Guardian and Total's 34/6-2 S with the Borgland Dolphin targeting the Jurassic Guarantiana prospect.
Both appraisals are being drilled by competing licence groups ahead of finalising unitisation on Johan Sverdrup. Lundin, working with the Transocean Arctic, has sidetracked well 16/2-13 A and Statoil spudded 16/2-14 on September 14 with the Ocean Vanguard.
At the end of August, Det Norske abandoned as dry, well 3/4-2 S on the Upper Cretaceous Ulvetanna prospect; with Maersk Guardian mobilising to drill Geite. Statoil's Geitungen exploration well 16/2-12 was abandoned as a Jurassic oil find with a 35m (115ft) oil column – and subsequently re-classified as a Johan Sverdrup appraisal – prior to Ocean Vanguard moving within the same block to further appraise the extensive accumulation.
In the Norwegian Sea, Lundin progresses with the re-entered Albert Prospect well, 6201/11-3, targeting Cretaceous reserves with the Bredford Dolphin. Early in September, Centrica's Cooper prospect, well 6506/11-9 S, was conservatively classified dry by the NPD, despite encountering mobile oil, after the DST (drill-stem test) failed to flow. The rig West Alpha headed to Ølen for upgrading, modifications and for re-certification.
In the Barents Sea, a single well is active . . . on Eni's 7220/10-1 Salina prospect. The exploration well was spudded on August 8 by the Scarabeo 8.
According to the NPD 52 exploration wells were spudded on the NCS in 2011, 36 of which were exploratory and 16 wells appraising existing finds. On current form those numbers are unlikely to be bettered in 2012, although the methodical delineation of the giant that is Johan Sverdrup will dominate the headlines come the new year reviews.
Simon Robertshaw's column is courtesy of North Sea analysts HannonWestwood
Recommended for you

Well Slot: Who's drilling in the UK North Sea and Norway?