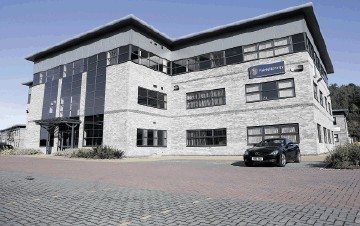 Independent oil and gas operator Fairfield Energy is looking to recruit up to 20 people in the next 12 months after moving into a new base for its North Sea operations.
Fairfield has signed a 10-year lease worth several million pounds on a larger 25,000 square-foot building at Arnhall Business Park, Westhill.
More than 180 employees and contractors have relocated to the site.
As part of the move, the majority of office furniture from Fairfield's previous base at Kirkhill, Dyce, has been donated to local charities.
Fairfield chief operating officer Ian Sharp said the company's move to Westhill provided a modern base for its north-east employees, but also room for future growth as the company continued its recruitment drive in support of its business plans.
He added: "Fairfield has successfully developed a unique portfolio of assets in the North Sea and we are now ready to both deepen and broaden the company to where it is rightly seen as a UK independent of substance.
"Our financial capacity to do this has been significantly increased with the recently announced investment from Riverstone along with the continued support of our existing investors."
In July, Fairfield announced more private-equity investment in the business to allow it to pursue growth opportunities.
Riverstone Holdings invested £97million in Fairfield and gained a stake of about 30% – the same as lead investor Warburg Pincus.
The remaining stakes are held by five other private-equity investors.
Former BP chief executive Lord Browne, now a Riverstone partner, has joined the Fairfield board as a non-executive director with Riverstone managing director Ralph Alexander.
Riverstone also has an option to put in a further £129million alongside future contributions from the other current investors.
Fairfield, which has its headquarters in Middlesex, was set up in late 2005.
The company has a growing portfolio of interests in the North Sea and in July the first development well at the Clipper South gas field was completed.
Fairfield is also focusing on revitalising the Dunlin platform following its acquisition from Shell in 2008. It has invested more than £70million in improvements to the power-generation systems to help increase and sustain production.
Recommended for you

Former Westwood CEO sets up new consultancy targeting '£821m market opportunity'