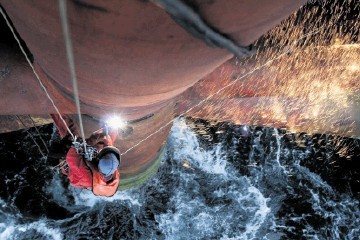 Stork Technical Services said yesterday its Aberdeen-based energy service business was in good shape and poised for further growth after record turnover in 2011.
The Dutch company's Granite City-based operation, previously known as RBG, is now fully integrated into the wider group following its acquisition last year in a deal understood to be worth up to £250million.
Results just released by Companies House show turnover at the north-east business grew by 5.5% to a record £332.1million during 2011. Operating profits rocketed by 17.2% to £16.3million, although pre-tax profits fell to £3.8million from just under £13million in 2010.
Stork said the rise in turnover was generated by growing business in the UK and internationally.
It said on the UK continental shelf, significant growth was driven through a new contract and an increase in subsea and electrical activity.
Internationally, strong trading was reported in the US, Trinidad & Tobago and Azerbaijan, while turnover in Kazakhstan was reduced due to a challenging trading environment.
Chief operating officer Dave Workman said: "We are very pleased with the performance of the legacy RBG business in 2011. The company delivered record turnover, driven by continued growth in its UK and international operations.
"We have now consolidated the business in Stork and we expect this trend of growth to continue in 2012 and beyond. Our aim is to partner with operators to extend the life of their assets and integrating the businesses means we are ideally placed to deliver this.
"This is clearly an exciting time for us and we have an excellent platform to expand our operations and strengthen our track record in years to come."
Erik-Jan Bijvank, senior vice-president for the UK and Africa at Stork, said the UK was one of the group's best performing regions in 2011.
"The UK remains a major growth market for us," said Mr Bijvank, adding: "Plans are in place to make major inroads into Africa, mainly through the delivery of our integrated fabric maintenance and subsea service offerings."
Stork is a provider of asset-integrity management services for the oil and gas, chemical and power sectors. The company employs about 14,300 people globally.
Recommended for you

Funding growth for energy transition 'not a problem' for BP, says CEO