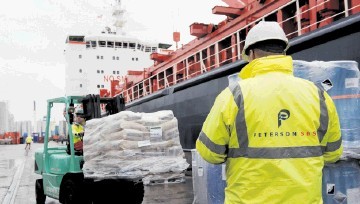 Energy industry logistics firm Peterson SBS says growth in quayside cargo-handling facilities in Aberdeen and Shetland contributed to a 26% rise in turnover during 2011.
In its latest annual accounts, the Granite City-based firm also cites an increases in output prices and volumes in its marine fuels division for the large jump in turnover to £151.8million.
Pre-tax profits grew only slightly last year, however, to £1.1million – impacted by poorer occupancy levels for storage facilities in Aberdeen, rising fuel prices and lower levels of activity at operations in Great Yarmouth and Heysham.
The firm's latest accounts – just released by Companies House – also show operating profits fell to £1.3million in 2011, from £1.6million the year before.
Chief operating officer Mike Porter told the Press and Journal that a 27% year-on-year rise in deck cargo tonnages contributed to £6million of extra revenue from quayside services during the first half of 2012, while income from inventory management services was up by 20%. The growth comes after investment in the expansion of Peterson's upstream oil and gas operations at Edzell and Altens in Aberdeen.
Mr Porter said: "In Edzell, we leased an additional 83,000 square feet purpose-built warehouse alongside a 71,000sq ft warehouse which the company has leased since 2010. We also increased our capacity at our site in Altens by adding 35,000sq ft of high-quality warehousing, bringing our total internal storage capacity in the UK to over 800,000sq ft."
He added: "During 2011 we handled over 300,000 tonnes of cargo for the UK continental shelf from our base in Aberdeen.
"We anticipated further uplift in demand for our quayside services from our North Sea client base in 2012 and, in anticipation of this, increased the number of private berths we operate at Aberdeen harbour from four to six.
"This has allowed us to handle a greater number of vessels and as a result the volume of deck cargo tonnages has increased significantly in the first half of this year."
Mr Porter said projects in the decommissioning market led to strong performance from the firm's Shetland base in 2011 and this continued to be a solid growth area for the business.
He added: "Our bases in Great Yarmouth and Heysham also secured new clients towards the end of 2011 and these new clients will be particularly busy during the second half of 2012 as their drilling campaigns gather momentum."
Peterson – part of Dutch logistics group Peterson Control Union – employs 370 people across operations in Aberdeen, Shetland, Heysham, Edzell and Great Yarmouth.