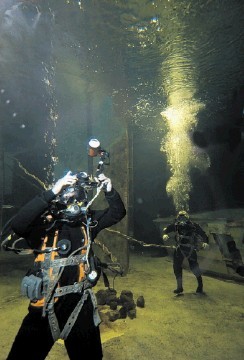 Developers of oil and gas technology are calling on major North Sea operators to work closer together to find solutions to technology issues as they prepare to gather for the fifth ITF technology showcase next week.
Industry technology facilitator ITF, in partnership with the Department of Energy and Climate Change and Pilot, will host the event at Aberdeen Exhibition and Conference Centre (AECC) on Thursday, November 1.
The showcase aims to focus on the latest technology challenges in the industry and address six key areas for development as identified by operators. These include enhanced oil recovery and production optimisation.
The event will feature 60 stands by technology developers, plus presentations from industry leaders and one-to-one sessions for delegates to talk directly to decision makers.
Trevor Garlick, regional president of BP North Sea, will present the keynote speech which will focus on the importance of technological innovation and industry collaboration.
Max Rowe, chairman of ITF, said: "The importance of technology in the oil and gas industry is increasing and ITF's showcase will demonstrate the innovation coming from Scotland and further afield to conquer the challenges. Technology development is also important to the growth of the economy and will provide continued career opportunities in this sector.
"The event has been a great success over the past four years and we are taking it to its largest scale yet. It opens the doors for technology developers to tap into a wider audience for their inventions and gives access to the most significant names in the sector under one roof."
Among the exhibitors is Paradigm Flow Services of Inverurie, whose managing director Rob Bain said: "Sustaining margins and production is becoming increasingly dependent upon the development of new technology systems. Extending the life of assets is crucial for the industry going forward and innovation is essential to address the problem of ageing infrastructure.
"Understandably, operators have been somewhat cautious when highlighting their technology needs as they don't want to be seen to have gaps in their capabilities. However, by discussing and working through the challenges facing the future success of the industry, issues can be targeted and solved quickly and efficiently. The showcase will be the ideal arena to urge all those working in the industry into action."
The Underwater Centre, of Fort William, will also be exhibiting.
Technical marketing manager Douglas Ormiston said the event was a great chance to network with technology developers in the energy sector.
Recommended for you

NZTC study finds 'significant challenge' in cost of North Sea electrification