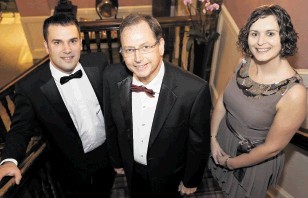 The UK head of energy company Total told young oil and gas workers last night they were ambassadors for the industry and all had a role to play in helping to attract new blood.
Philippe Guys, managing director of Total E&P UK, was speaking to the annual Young Professionals in Oil and Gas dinner in the Marcliffe Hotel, Aberdeen.
He said the culture of poaching staff from competitors was unhelpful and inflated costs.
Mr Guys told the 300-plus audience they should all do their bit in promoting the industry as a career destination of choice among their friends and to other young people. He said: "This is a very competitive sector and it's the responsibility of all of us who work in it to ensure we nurture and encourage the next generation of talent. We need to take a longer-term approach which encourages young people to see oil and gas as a meaningful, fulfilling career and helps secure the brightest and the best for our industry.
"The global industry has a long future and offers exceptional careers, training and travel potential and there are already many vacancies. Poaching among companies is not helpful and just pushes costs up. What we need are more new people coming into the industry; not just the existing workforce moving from one company to another."
The Total boss also spoke about the March gas leak in the North Sea which led to the Elgin platform being shut down.
The Elgin/Franklin field is not expected to resume full production until next year. Mr Guys said: "The Elgin leak was a learning experience for everyone involved, and we'll be taking lessons about well design, materials and more into our future operations. The most important thing was that everyone got out safely and for me that truly demonstrated the value of our offshore and onshore safety system – result of lessons learned from previous industry incidents.
"I cannot emphasise enough the outstanding commitment of the Total staff and the various government and other agencies involved during this incident.
"Without their dedication and very hard work, a difficult situation could have been much worse."
The dinner was organised by professional service firms Deloitte and Pinsent Masons and sponsored by Aker Solutions.