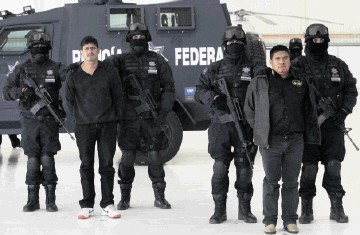 Mexico is another example of a country hell-bent on jumping on the unconventional bandwagon with the emphasis on shale gas.
The Instituto Mexicano del Petroleo (IMP) is undertaking a $242million project to determine Mexico's unconventional oil and gas resources using state-of-the-art technology.
The IMP will initially assess the Galaxia block in the Burgos Basin and the Limonaria block in the Tampico-Misantla Basin, both in north-eastern Mexico.
The work will be carried out in co-operation with Mexico's national oil company Pemex.
Mexico's Energy Secretariat says the project will enable Mexico, a significant but flagging oil producer, "organise areas with potential resources into a hierarchy and determine if these are oil or gas formations". It said this will involve "conceptual design for well drilling and termination" in a manner that will cause the least environmental and social impact and achieve the highest profitability.
"This amounts to an unprecedented push for research in this sector at the national level because of the size of the technological and investment impact the approved amount entails," the secretariat said.
Mexico is currently thought to possess the world's fourth largest shale gas reserves, which are provisionally estimated to be around 680trillion cu ft.
However, it is neither technology nor difficult geography/geology that pose the most daunting challenges to Pemex and other future potential players keen to join the unconventional wagon train; rather it is gangsters and particularly the so-called Zetas.
It's apparently like a re-run of the Wild West, only deadlier.
Mexico's gas plays (conventional and unconventional) extend from the prolific Eagle Ford shales of South Texas deep into a region of rankling and coal mining that extends inland from the violent border city of Nuevo Laredo. This is the Zetas homeland and they rank among the most fearsome of Mexico's criminal badlands.
Murder, extortion and assaults have become part of oil industry life in Mexico, despite protection. It is reported that feuding Zeta factions could make the situation much worse.
"Petroleos Mexicanos has problems with security . . . principally in Burgos," Guillermo Dominguez, a senior member of the National Hydrocarbons Commission, told the Mexico City newspaper Reforma.
It reports that Banners recently hung by both main Zetas factions have accused one another of treason and other transgressions that will be avenged with death.
The dangerous shambles that prevails in Mexico's gas fields contrasts sharply with the drilling and production frenzy on the US side of the border.
Around 6,000 drilling permits have been issued for Eagle Ford shale in Texas, and 550 wells are producing there. By comparison, Pemex so far has drilled five exploratory shale gas wells to the west of Nuevo Laredo and border country at Piedras Negras, but hopes to drill 170 more in the next four years.
The company plans to spend $200million on exploration in the short term.
At least eight Pemex and contract employees vanished in May 2010 near a gas facility near Falcon Lake, territory under Zetas' control. Last March, two men working for a Mexican company doing contract work for oilfield services major Halliburton disappeared outside Piedras Negras.
Many companies have stopped working in the oil and gasfields until Pemex or the Mexican government can guarantee security.