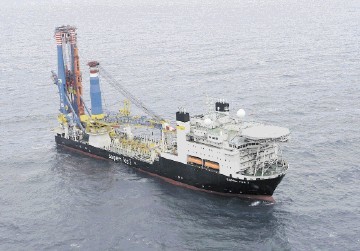 Italian contractor Saipem has been awarded a sizeable deepwater engineering, procurement, installation and commissioning contract with Petrobras covering two "pre-salt" developments in the Santos Basin some 300km (200 miles) offshore Brazil.
The EPIC work package covers production riser pipework for the Sapinhoa Norte and Cernambi Sul, both of which lie in about 2,200m (7,219ft) water depth.
The scope of work for Petrobras covers the engineering, procurement, fabrication, installation, and pre-commissioning of a "steel lazy wave riser" for the collection system at the Sapinhoa Norte; and of the "free standing hybrid risers" for the gas export systems at both Sapinhoa Norte and Cernambi Sul.
The offshore side of the contract will be performed by the highly specialised Saipem FDS 2 vessel and is scheduled to start in the third quarter of 2014.
Meanwhile, under Brazil's strict local content rules, Saipem will use a yard currently under development in Guaruja, Brazil, for the fabrication of part of the risers systems and associated equipment.
The risers work adds to Saipem's contracts book with Petrobras as, in March this year, the company was awarded an EPIC contract for the 19km (12-mile), 18-inch Lula NE – Cernambi gas export pipeline and related subsea equipment. This line will connect the Cernambi Field to a central manifold in the neighbouring and giant Lula field.
The majority of the offshore activities associated with this package will also be performed by the Saipem FDS 2, but next year.
The Sapinhoa (otherwise known as Guara) and Cernambi fields are part of the huge and still fresh Brazilian ultra-deepwater pre-salt play located in the Santos Basin, block BM-S-9. Sapinhoa alone is estimated to hold as much as 2billion barrels equivalent of oil, gas and other hydrocarbon liquids.
Sapinhoa was discovered in 2008. An extended well test was carried out in 2010, then a "declaration of commerciality" was submitted to the Brazilian authorities on December 30, 2011.
In January 2010, Petrobras and its partners in the discovery signed a letter of intent with the Schahin/Modec consortium to charter and operate a production ship (FPSO) for Guara based on a 20-year term. The FPSO . . . basically a converted trading tanker . . . will be designed to process 120,000 barrels of oil per day, plus large quantities of gas.
Petrobras is operator of the so-called BM-S-09 consortium with BG and Repsol and the BM-S-11 consortium with Galp and Repsol.