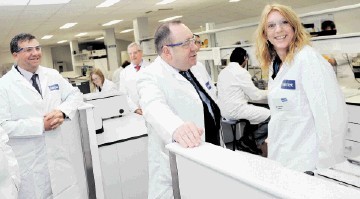 Intertek said yesterday that its investment in a £15million site in Aberdeen underlined its confidence in the oil and gas market and could also lead to 60 new jobs.
The company, which has operations in more than 100 countries and tests products ranging from toys and clothes to energy technology, has signed a 20-year lease for the 41,000sq ft North Point building at the Energy Park at Bridge of Don.
First Minister Alex Salmond officially opened the new research and development, testing and training facility yesterday.
Intertek said its investment, including £4.5million of spending on new laboratories, meant its Aberdeen businesses and their 160-plus total workforce were now all under one roof.
Up to 60 jobs could be created over the next three years amid growing demand for the group's services, it added.
Raymond Pirie, Intertek's vice-president of global upstream business, said North Point provided a "centre of excellence to support the exploration and production market and push the boundaries in science and technology".
He added: "Our investment in the new facility strengthens Intertek's integrated offering, underlining our confidence in the oil and gas market, and our desire to provide the highest-quality service at home and internationally."
Mr Pirie said Intertek was seeing continued growth in demand for its integrated energy services.
"We are actively recruiting engineers, chemists and technical experts to help meet this demand," he added.
The first minister hailed the group's investment as an important step in servicing the future needs of Scotland's oil and gas industry. Mr Salmond said: "This new facility is designed to house Intertek's existing energy operations around Aberdeen under one roof, creating a true centre of excellence in North Sea oil and gas at the heart of a technology park that is fast becoming a hub of innovation.
"More than 160 people will be based in this building, which could increase to up to 220 over the next three years to meet demand.
"This shows what a critical role the whole breadth of the energy sector plays in our economy here in Aberdeen and across the region."
Recommended for you

Fife's new FastBlade test centre to help speed up tidal energy development