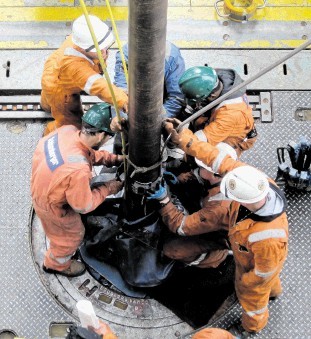 Soaring salaries in the North Sea oil and gas industry could kill the goose laying the golden egg, an energy expert warned yesterday.
Firms wanting to attract or keep staff are having to give pay rises of up to 20%, due to shortages of skilled and experienced workers.
And the rising pressure on recruitment means the average salary for workers across the sector has risen to £64,000 – more than double the national average wage of £25,000.
The wage figures were revealed in Aberdeen and Grampian Chamber of Commerce's latest oil and gas survey.
This prompted calls for an industry-wide initiative to address skills issues.
The biggest skills gap was in the 35-49 age group with people having eight to 15 years' experience, according to the survey.
Kenny Paton, oil and gas partner at law firm Bond Pearce, which sponsors the survey, said: "Salaries in the sector continue to soar as companies poach expertise from one another to try to plug the considerable skills gap.
"As the UK competes globally for investment, it is important that issues like skills, salaries and the continuing uncertainty over decommissioning (tax relief) are not allowed to kill the goose which is laying the golden egg."
Skills shortages have been exacerbated by higher levels of activity in the North Sea, with investment in new projects jumping from £8billion in 2010 to £8.5billion last year. Industry body Oil and Gas UK has estimated the figure could reach £11.5billion this year thanks to renewed interest in the North Sea.
Robert Collier, chief executive of the chamber, said: "Nearly 100% of the firms surveyed are looking for staff, which is why we are calling for an industry-wide initiative to address this issue."
He said that, if the industry was not able to fulfil its recruitment needs locally, it needed to bring people into the area, but that issues like housing shortages and costs were barriers.
"The industry needs to work together to fix this common problem," Mr Collier added.
"At the moment the sector is dealing with the effect of skills shortages and managing it, but it is not dealing with the root cause.
"This is constraining growth because it is stopping the full potential being realised.
"Will this region have the capacity to maintain exports if more and more resources are allocated to managing local contracts?"