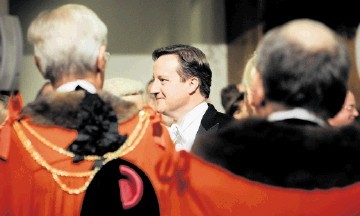 Prime Minister David Cameron has outlined his plans to put North Sea oil and gas at the heart of a "modern industrial strategy".
The Conservative leader confirmed last night that the UK Government was planning to publish its vision for the future of the offshore sector early next year.
Mr Cameron also announced that the energy minister he controversially sacked two months ago – Tory MP Charles Hendry – would be appointed as one of eight new trade envoys.
Business Secretary Vince Cable said the coalition government was working on a new industrial strategy in September.
In a speech to the Lord Mayor's Banquet in London last night, Mr Cameron revealed that the first reports would be published within months.
"We need what I call a modern industrial strategy," he said. "Not keeping dead industries on life support like the industrial strategy of the 1970s, but supporting industries where we have a competitive edge and encouraging the high growth industries of the future."
He added: "We'll be publishing new strategies for aerospace and agritech alongside nuclear, offshore renewables and oil and gas early next year – with even more to come. This decisive, strategic, government action is vital if Britain is to win in the global race."
Mr Cameron also highlighted measures in this year's Budget which, he said, provided certainty over decommissioning costs in the offshore sector and new field allowances.
"We've created new incentives to squeeze more oil and gas out of the North Sea including from marginal fields," he said.
Mr Hendry is to become a trade envoy for oil and gas-rich nations, it was announced last night.
The MP revealed in the Press and Journal last week that the prime minister had told him he wanted to bring in "young talent" – only for Mr Cameron to appoint an older MP, John Hayes, in his place.
Recommended for you

North Sea oil revival may hinder renewables firm's attempts to attract workers