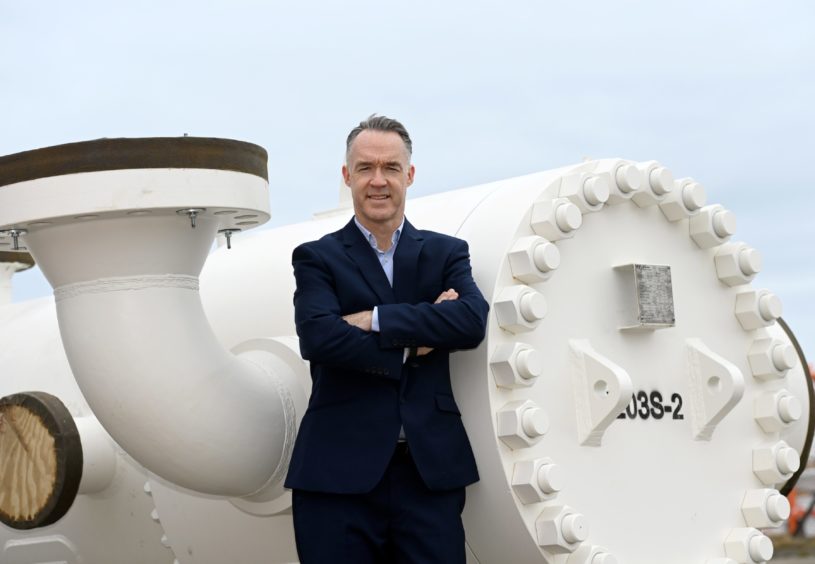 Glacier Energy is looking ahead to the rest of 2021 with optimism as it prepares to launch "a game changer in the world of heat exchangers".
The company, 10 years old today, is also getting ready to move its Aberdeen operations into new, larger digs in Altens.
Glacier was founded in 2011 through the acquisition of Roberts Pipeline Machining and Wellclad from MB Aerospace.
It went on to make several more acquisitions, accelerating its swift expansion from a team of 20 people to more than 200, and growing its revenues from £5 million to more than £25m.
The onset of one of the worst downturns in the sector's history in 2014 gave Glacier, and many others, a bumpy ride.
CEO Scott Martin said Glacier benefitted from having four well-established core business streams – heat transfer solutions, inspection services, machining and welding solutions.
In addition, the business was already "well diversified" when the next large bump — Covid — came along.
Roughly 40% of its takings come from the offshore wind sector, to which it delivers NDT and inspection as well as weld testing, with the use of ultrasonic techniques on monopiles and transition pieces.
The pandemic did require management to curtail some growth projects, use furlough, and make some employees redundant.
But Glacier has stuck with the development projects it "really believed in" and will soon have something to show for its efforts.
Glacier will soon launch HTX Digital, a non-intrusive monitoring solution that uses data and predictive analytics to trend and predict future performance and degradation of heat exchangers.
Lost production on the UK Continental Shelf caused by heat transfer failures is estimated to cost around £600m per year.
Glacier claims its technology can reduce unplanned downtime by up to 30%.
Mr Martin said there was "plenty of volume" for Glacier to get after, as oil and gas platforms have multiple heat exchangers.
He said Glacier's product would provide valuable information on new equipment, but "came into its own" on older installations.
"No one we've spoken to has said they don't fancy it," Mr Martin said, encouragingly.
It also bodes well that alternative energy project activity is "going through the roof", particularly when energy storage, which requires heat exchangers, is involved.
Glacier, which has turnover of £28m a year, currently has 220 employees and facilities in Aberdeen, Glasgow, Methil and Rotherham.
In the Granite City, where it had 40 staff members, the company has two facilities which are not big enough to match its appetite for work.
The business is not just repairing and refurbishing heat exchangers, it is designing and manufacturing more of them, too.
Glacier will bring its north-east operations under one roof at a bigger facility, which it hopes to move into in Altens in the second quarter.
And with oil prices recovering, Mr Martin is hoping operators will be encouraged to spend more on their existing assets and sanction new developments.
"We are optimistic about spring onwards," he said.
Recommended for you

Up to 30 new jobs as isol8 expands Aberdeen facility with £150K investment