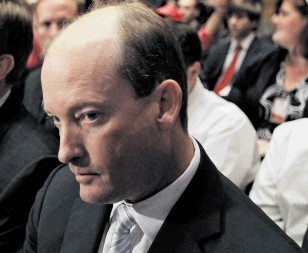 Oil giant BP unveiled a reorganisation of its oil and gas production operations yesterday, reversing a change after the Gulf of Mexico spill.
It is thought the latest move is partly intended to free chief executive Bob Dudley of overseeing day-to-day operations so he can help to chart BP's recovery from the Deepwater Horizon rig disaster in 2010.
The company's shares have failed to recover since the catastrophe and Mr Dudley has been criticised for failing to communicate a strategy for growth.
Lamar McKay, head of BP's US operations, will become chief executive of a new exploration and production (E&P) unit called Upstream.
The former business unit leader for the central North Sea, which brought him to Aberdeen for a spell, will be based in London. His appointment reinstates a role that was abolished in 2010 in the wake of the Macondo well blowout, which killed 11 men on the Deepwater Horizon rig and spilled 5million barrels of crude into the sea.
Mr McKay and Mr Dudley are both former executives of Amoco, which BP took over in 1997 to join the top tier of the global oil and industry.
BP had planned to announce Mr McKay's appointment internally next week but was forced into revealing the move yesterday by reports it was restructuring its production operations.
North Sea regional president Trevor Garlick will continue to report to Bob Fryer, executive vice-president of E&P.
There are four executive VPs reporting directly to Mr Dudley but this will change from January 1, when Mr McKay takes up his new duties as boss of BP's upstream operations.
It is thought directors agreed on the reorganisation months ago but wanted to delay announcing it until BP had made further progress with the US authorities on settling investigations around the Macondo spill.
The company said last week it would pay £2.8billion in penalties and plead guilty to criminal misconduct. A US government civil investigation could also lead to fines totalling more than £12.5billion and two BP engineers face manslaughter charges relating to the rig explosion.
There is speculation that BP is also mulling a reorganisation of its safety division, with a view to potentially bringing some oversight roles back under the control of operating unit managers, but a spokesman said there were no changes planned.