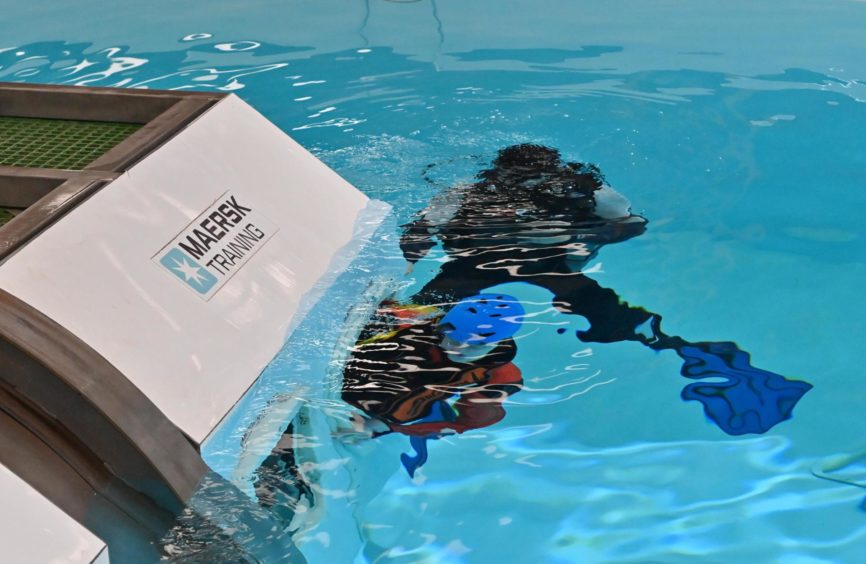 Maersk Training has cut the ribbon on the first half of its newly refurbished north-east safety and survival training centre.
The facility in Portlethen, on the outskirts of Aberdeen, recently underwent a £720,000 revamp to bring it in line with the needs of the industry as the energy transition gathers pace.
It now boasts upgraded training facilities and has strengthened its safety offering for the traditional North Sea oil and gas workforce.
New technology, including a replica wind turbine nacelle, has also been installed to allow the centre to deliver courses specifically tailored to the renewables industry.
Maersk Training has developed the courses to allow attendees to transition easily between subjects, allowing them to develop skills that will be needed in the current and future energy mix.
New facilities available at the centre include a larger pool, a bespoke work at height and confined space training unit, a first aid simulator and a dedicated basic technical training simulator – the only one of its kind in Aberdeen.
Leonard Machado, managing director of Maersk Training, said: "The opening of our upgraded training centre is the culmination of months of hard work and research to ensure that we have an offering which reflects the ever-evolving energy sector.
"The North Sea has always been at the forefront of innovation and safety and our new facilities will allow us to provide a one stop shop to companies to support them as they embrace the opportunities which the energy transition create, while also servicing oil and gas and ensuring the industry continues to be world leaders in safety and innovation."
The second half of the refurbishment is due to be completed by the summer and will include a brand new advanced firefighting facility.
It will provide a full suite of accredited emergency response training for oil and gas, marine and industrial firefighting teams.
Maersk Training has also invested in e-learning courses and has increased its digital offering.
This includes the upgrade of its Training Management Service (TMS), which allows the firm to offer an "effective and safer solution" for delegate training.
Mr Machado added: "The last year has seen a seismic shift in how companies work and as a result of this we have invested in the technology required to allow us to provide training to companies digitally. Our use of smart technology to manage training needs allows us to form a better partnership with our clients and ensures we are providing a complete service offering.
"In line with one of the company's values of 'Our Employees', we have initiated an internal 'people skills' programme with the investment of time, energy, and effort into each employee's development. The focus is on identifying personal and shared values to ensure every facet of the business continues to operate as one multifunctional high performing team, intending to provide each client with a better learning experience."