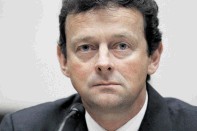 Genel Energy, which is led by disgraced BP former chief former Tony Hayward, has secured the majority interest and operatorship of a new offshore concession in the Moroccan sector of the Atlantic.
It has been granted a 75% equity interest in and operatorship of the Mir Left Offshore Block, with the remaining 25% held by Morocco's hydrocarbons and mines ministry.
Under the deal, Genel must acquire a minimum of 400sq km of 3D seismic data and drill one exploration well during the three-year initial exploration period, which it will fund from its existing cash resources. There are two further optional exploration periods of three years and two years respectively.