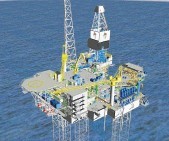 Azerbaijan has ratified an intergovernmental agreement with Turkey that should finally lead to the construction of a $7billion pipeline designed to carry Caspian Sea gas to the edge of Europe.
The Azeri parliament approved the agreement on the pipeline that will initially carry up to 16billion cu.m a year from the Shah Deniz gasfield complex operated by BP.
Under the agreement with Turkey, the pipeline can be ramped up to 30bcm a year to include gas from further offshore gas fields being developed in Azerbaijan and other Caspian producers, such as Turkmenistan. Eventually, the Trans-Anatolian Pipeline, or Tanap, could be a conduit for gas from Kurdistan in northern Iraq.