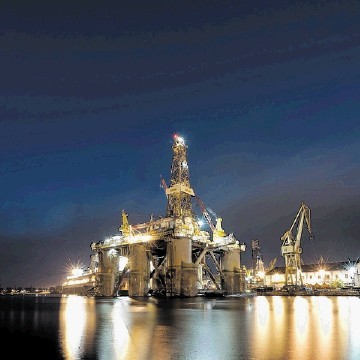 As November closed there were 13 E&A wells active on the UKCS.
The number of 2012 spuds has risen marginally since last month to 38 (20 exploration and 18 appraisal), with 16 sidetracks (six exploratory and 10 appraisals), six re-spuds and two re-entries initiated.
Seven of the active E&A wells are located in the Central North Sea, three in the Northern North Sea, two West of Shetland and a single well in the East Irish Sea.
Southern North Sea
The SNS, at least for now, remains devoid of E&A activity. The drilling and/or completion of 25 development/production wells is ongoing on 21 fields and, with the exception of five platform rigs, all are utilising mobile units.
However, the second Southern North Sea E&A well spud of the year approaches now that jack-up Swift 10 from the Dutch sector is on location ahead of drilling Shell's Denver prospect on block 49/20a, targeting Rotliegendes sands.
Central
In the CNS, mid-November saw geological sidetracks initiated by the semi Ocean Princess on EnQuest's Upper Jurassic Kildrummy appraisal, well 15/17a-28Z, and on Maersk's Balloch (Jurassic) appraisal, where the planned production leg was kicked-off from well 15/20a-19 by the Noble Ton van Langeveld.
Nexen's Upper Jurassic Polecat East appraisal well 20/4a-11 continues (GSF Arctic III) whilst the most recent spud is that of Premier's Palaeocene Cyclone exploration probe, well 21/7b-4, (WilPhoenix).
Rowan Gorilla VI, previously reported as testing on BG's HP/HT White Bear prospect, well 22/4b-6, is still on location ahead of a possible move to port before drilling an exploration well in the southern CNS for the operator.
Maersk continues operations on sidetracked Ockley appraisal, well 30/1d-12Z, (Ensco 101). Suncor continues operations on the thrice re-spudded jointly funded Upper Jurassic Romeo prospect well, 30/11c-6C, (WilHunter), Total has demonstrated confidence by farming-in to block 30/11c.
Operations were wrapped up at various locations last month. Premier's Spaniards East appraisal, well 15/21a-60 (WilPhoenix) was abandoned dry, Centrica's Bligh/Christian Deep appraisal, well 21/20d-8 (Galaxy II), was abandoned after more than five months – including almost two months at total depth – the rig is destined for GDF's Josephine appraisal.
Nexen's well 20/7-7 on the Upper Jurassic Bardolph prospect was also abandoned after a month – the official, but ambiguous, line being that the well didn't encounter commercial hydrocarbons. The rig Transocean Prospect then moved to drill a Telford development well on block 15/22, again for Nexen.
Northern
In the NNS, Total's Fettercairn well 3/15a-15Re (Middle Jurassic) is operating at total depth (Sedco 714), Taqa's Middle Jurassic Contender discovery, well 211/21-N94, now renamed East Cormorant, drilled from the Cormorant North platform, is being readied for production following ultra-rapid field development plan approval, and Fairfield continues operations on South Hutton well 211/27e-13, (Ocean Nomad).
West of Shetland
Two wells remain active WoS. BP's long-running North Uist/Cardhu (Upper Jurassic/Palaeocene) exploration well 213/25c-1V (Stena Carron) and DONG's well 208/17-3 on the Palaeocene Cragganmore prospect (West Navigator).
East Irish Sea
Here, operations are drawing to a close on Centrica's Rhyl North Triassic appraisal well 113/27b-8; however, the jack-up Noble Byron Welliver will remain in the area for further exploration drilling by Centrica.
Finally, as 2012 peters out and the pace of E&A activity in the UK sector slows, it is time to take early stock.
There are some rumours of success – although to what degree is as yet unclear – emerging from West of Shetland waters and the deep Central North Sea. However, 2012 is not shaping up in terms of success rates and volumes discovered.
Last year's drilling if not success levels have already been bettered, though 2010's tally of 28 exploration and 20 appraisal spuds currently seems unattainable. But just a couple more spuds will at least see 2009 levels exceeded.
NORWAY
Johan grows and Lundin hits shows
As November closes, seven E&A wells were active on the NCS . . . three exploration and four appraisal. Total spuds this year stand at 33 of which 24 are exploration, nine are appraisal. Four sidetracks and one re-entry bring the total to 37 well starts so far.
Five of the current seven active wells are North Sea, plus one each in the Norwegian (exploration) and Barents (appraisal) Seas. The mobile rigs tally stays at 34.
North Sea
Four of the five active wells were spudded this month, with Lotos drilling its maiden Norwegian well, 7/8-6 S, on the Skagen prospect (Maersk Guardian). Appraisal of Johan Sverdrup continues with two further wells spudded, 16/2-15 and 16/2-16, (Ocean Vanguard and Transocean Winner). Previous Johan Sverdrup appraisal 16/2-14 recorded another success for the Statoil-operated consortium. Wintershall's dual-objective exploration probe 16/1-16 (Bredford Dolphin) continues.
Talisman's Upper Jurassic Isbjørn prospect on the other side of the Utsira High was dry, with operations wrapping up towards the end of the month. Total's Garantiana appraisal sidetrack, well 34/6-2A (Borgland Dolphin) continues.
Norwegian & Barents Seas
Well 6607/12-3 is rolled over from last month, where Statoil is targeting the Jette prospect with the West Alpha semi. In the Barents, Lundin's exploration probe 7120/6-3 S was abandoned after making a minor oil discovery on the Snurrevad/Juksa prospect. The rig Transocean Arctic then moved to the North Sea to drill for Wintershall. Eni spudded Goliat field appraisal 7122/7-6 (Scarabeo).
Once again, the Statoil/Lundin-operated consortia have recorded further appraisal successes on Johan Sverdrup and, with another two probes started, it should be a prosperous year-end for all involved with the huge field. What adds to this immensely successful appraisal effort to date, is the fact that each of these wells is to some degree exploratory, with the thin reservoir sands that drape the Utsira High remaining, in places, difficult to image and therefore leaving much to explore.
Simon Robertshaw and David Moseley's column is courtesy of North Sea analysts Hannon Westwood
Recommended for you

Well Slot: Who's drilling in the UK North Sea and Norway?