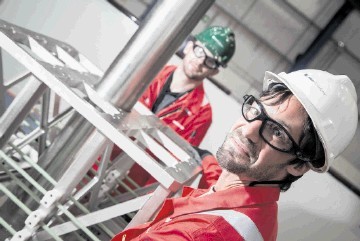 Oilfield service group Aker Solutions predicted yesterday it would continue to enjoy strong growth for at least five years, thanks to rising capital investment.
The company has previously set itself the aim of doubling in size between 2010 and 2015, and said yesterday it was on track to achieve that target.
But Norway-based Aker now expects the growth to continue beyond 2015 and possibly double current revenue by 2017.
Turnover in 2011 was £4billion but the company said revenue in the first nine months of 2012 was nearly one-third higher than in the same period last year.
Chairman Oyvind Eriksen said that based on its record high order backlog of £6.6billion and an estimated 10% annual growth rate in offshore spending over the next five years, Aker Solutions, with its portfolio of business areas, had the potential to double its revenue again from 2012 to 2017.
Aker employs more than 2,700 people in and around Aberdeen, having taken on more than 350 people in the past year.
The firm wants its workforce in the north-east to grow to 3,200 by 2015, which would make it one of the area's biggest employers.
Mike Forbes, UK managing director of Aker Solutions' maintenance, modifications and operations business, said the company's growth meant that, nationwide, the workforce could be as high as 5,000; up from 3,200 at the moment.
Aker also said yesterday it wanted to increase its earnings margin – before interest, tax, depreciation and amortisation – to 15% by 2017. Mr Eriksen said: "No one should expect us to pursue revenue growth at the cost of profitability."
Worldwide, Aker employs around 25,000 people in 30 countries.
Aker's Portlethen-based UK well services division has received an NHS Healthy Working Lives bronze award in recognition of its efforts to improve the health and wellbeing of its staff.