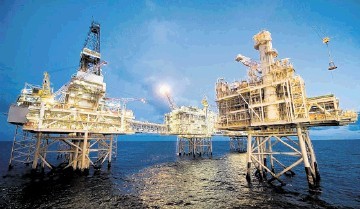 The Canadian Government has cleared the way for state oil firm China National Offshore Oil Corporation to gain access to the North Sea after approving its takeover of Nexen.
The Canadian Government has been considering the £9.4billion acquisition of the Calgary-based operator for more than three months, but has now given CNOOC the green light to operate the UK's largest producing oil field and a share in other major developments.
The takeover would give Beijing-based CNOOC control of the Buzzard field, the £2billion Golden Eagle development and a stake in the deepwater North Uist well currently being drilled by BP west of Shetland.
It also gives the Chinese company access to Canada's lucrative oil sands in Alberta, one of the world's biggest deposits of crude oil.
CNOOC's move to buy Nexen – the Far Eastern country's biggest foreign takeover – was announced in July, on the same day another Chinese oil firm, Sinopec, confirmed it had acquired a 49% share of Talisman Energy's UK North Sea business.
Combined, the two deals are worth more than £10billion and leave China with nearly 10% of oil and gas production on the UK continental shelf.
CNOOC has previously said it was confident the Nexen takeover would be complete by the end of the year, but the deal is still dependent on approval from the US Government, as Nexen has assets in the Gulf of Mexico.
Nexen's interim president and chief executive Kevin Reinhart, said: "This is an important milestone in the process and confirms our belief that this transaction provides a number of significant benefits to Canada and to Nexen."
"We remain focused on working with CNOOC to bring this transaction to a close."
CNOOC chief executive Li Fanrong added he believed the transaction "provides opportunities for Nexen employees, partners and for CNOOC".
After approving the deal, the Canadian Government introduced tough new measures to restrict foreign control of the country's energy resources.
Prime Minister Stephen Harper said: "To be blunt, Canadians have not spent years reducing the ownership of sectors of the economy by our own governments, only to see them bought and controlled by foreign governments instead."
Recommended for you

MPs warn of risk posed by Chinese North Sea investments