ABERDEEN'S harbour could expand into nearby Nigg Bay in a development worth hundreds of million of pounds, the Press and Journal can reveal today.
As the port nears capacity with rising demand from oil and gas vessels, bosses are considering how to expand and cope with larger ships in the years to come.
Aberdeen Harbour Board is also keen to attract bigger cruise ships to the north-east and boost the region's tourist economy.
After months of talks with key customers and potential users, the board has now revealed expansion into Nigg Bay is its preferred option in a move which would have "people across the world sitting up and taking notice".
Chief executive Colin Parker said development at Nigg would be a "complete game-changer" for the north-east and the harbour, which already contributes £500million annually to the local economy and helps sustain 11,000 jobs.
Mr Parker said port bosses were also considering further redevelopment of the existing harbour as an alternative, but warned Aberdeen had to "up its game" to compete with other cities around the North Sea.
He said: "In order to address the capacity issues we will face when the decommissioning-related subsea activities kick off in the future, as well as offshore renewables, we will need to accommodate larger vessels. We need to up our game to cope with that.
"Large cruise vessels are another market we are looking at, but we cannot handle them in the existing port. A lot of additional traffic could be handled, but it will not be more of the same – we will be moving into new markets."
Mr Parker said the full harbour board would consider a business case, including potential sources of funding, next month.
He added the port was looking at several potential finance options, but said a move into Nigg would amount to hundreds of millions of pounds of investment.
He said: "If we do invest in additional facilities it would be a complete game-changer for the city in what it has to offer moving forward.
"It will also be significant for the tourist attractions we have in the surrounding area.
"This is potentially a major change for the city of Aberdeen, and so far the people we have engaged with have been very positive."
Mr Parker said that, once the board had considered the merits of a potential expansion to Nigg, the harbour would consult with the local community and other stakeholders. "It is inevitable that some people will have concerns and one of the stages we will be kicking off early next year will be community engagement to listen to concerns and think about what we can do to address them where possible," he said.
Aberdeen City Council leader Barney Crockett said the expansion plans were a "marvellous boost" for the north-east.
He said: "It shows the kind of drive that the economy has in this area. The harbour board has to be congratulated – people across the world will be sitting up and taking notice.
"There is the potential for cross-Arctic shipping, and there could also be a huge impact on tourism if we can get large liners into the harbour.
"I think that Aberdeen will be well placed worldwide for the future."
Recommended for you
X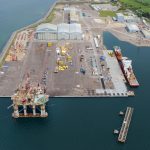 Plan to secure Nigg Energy Park's future could create hundreds of jobs
Read the latest opinion pieces from our Energy Voice columnists