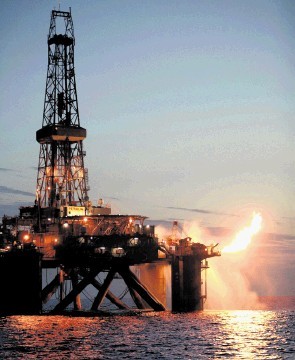 The UK Government moved yesterday to take down a "major barrier" to billions of pounds of new investment in the North Sea oil and gas industry.
The Treasury published details of its proposed decommissioning relief deed, which aims to provide companies with legally guaranteed assurances that tax breaks for cleaning-up ageing platforms will not change.
The plan, announced by Chancellor George Osborne in his Budget in March, follows months of talks between the industry and was hailed last night as a "significant landmark" for the sector.
The UK is facing a bill of more than £35billion to wind up offshore platforms and fields over coming decades, and uncertainty over responsibility for the liabilities has been blamed for stifling new investment.
The Treasury has now published a proposed contract it will enter into with individual companies making clear that tax relief will not alter in future years, freeing up capital which firms had been holding back.
Mike Tholen, economics director for industry body Oil and Gas UK, said: "In this move, the government has brought down what was a major barrier to investment in the UK's oil and gas which should allow the industry to make a much fuller contribution to economic growth – which is great news for British jobs and tax revenues."
Sir Robert Smith, Liberal Democrat MP for West Aberdeenshire and Kincardine, also welcomed the move. "This is excellent news for jobs in the north-east of Scotland as well as the economy of the rest of the country," he said.
Derek Leith, head of oil and gas taxation at Ernst & Young and Aberdeen managing partner, said the measures amounted to almost 100% of what the industry had hoped for.
"The announcement is a significant landmark in the evolution of the North Sea tax regime and should see greater investment in the basin, prolonging the life of many existing assets and ensuring that decommissioning relief agreements move to a post-tax basis," he said.
Judith Aldersey-Williams, partner at law firm CMS Cameron McKenna, said: "Overall, the government's proposals look positive, but there is still a lot of detail to work through over the next couple of months to make sure that the potential for freeing up investment outlined by Oil and Gas UK is actually achieved."