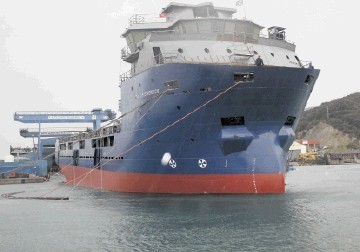 The largest ship built for Craig Group has just been launched at Balenciaga Shipyard in northern Spain.
The Grampian Sovereign is a 272ft platform-supply vessel with a displacement of 5,000 tonnes.
The Aberdeen company has committed £50million to the construction of the ship and sister vessel the Grampian Sceptre, which is being built at the same yard.
They will be managed by Craig Group division North Star Shipping and will support Talisman Energy's North Sea operations from next year. When the vessels come into service, they will create 50 jobs at Craig Group.
Chairman and managing director Douglas Craig, whose wife Isobel named the vessel in Spain, said: "This is a historic moment for Craig Group and for North Star Shipping.
"Launching such a large ship firmly underlines our position as market leaders of the provision of offshore support, ROV survey, platform-supply vessels and emergency-response and rescue vessels in the North Sea."
The new ships have been specifically designed to meet the requirements of operators in the North Sea.
North Star managing director Callum Bruce said: "We are constantly looking at ways of modernising our fleet through new-builds using the most up-to-date vessel technology and designs as we aim to meet our customers' needs in terms of safety, quality and efficiency."
This latest investment brings the total new-build programme by Craig Group since 2003 to more than £230million, representing 22 ships.
The firm's fleet is 35 strong before the arrival of the two new vessels.