A £989million project by Aberdeen-based Dana Petroleum to bring on stream two UK oil fields was given the go-ahead today.
The Department of Energy has approved the Western Isles development of the Harris and Barra fields in the northern North Sea.
The nine-well scheme around 100 miles east of Shetland will use a new floating production vessel and is expected to have output of more than 40,000 barrels of oil equivalent a day when it comes into operation in 2015.
Marcus Richards, Dana's chief executive, said: "The Western Isles project is at the heart of our growth strategy. Unlocking the potential of these new fields is a significant milestone as we aim to double our production to 100,000 barrels a day by 2016.
"We welcome the announcements by the Treasury this year to support oil and gas companies operating in the North Sea. This will help create a brighter future for the industry."
Economic Secretary to the Treasury Sajid Javid said: "The North Sea is a vital national asset, with oil and gas production supporting a third of a million jobs. That is why this government has announced a range of tax measures expected to generate billions of new investment and create jobs. Dana's announcement is a further endorsement of that strategy."
John Hayes, the UK energy minister, said: "I am delighted to announce the go-ahead for this project which will bring jobs and create new opportunities for UK companies to compete for key parts of the work. Dana Petroleum has really demonstrated its commitment to the North Sea and in doing so is playing its part in helping to secure the UK's future energy needs."
The Harris and Barra fields are estimated to contain recoverable oil reserves of more than 45million barrels.
Dana has a 77% stake in the Western Isles development and Japanese exploration and production company Cieco holds the remaining 23%. The project is expected to lead to up to 200 jobs, including about 20 additional posts at Dana in Aberdeen.
Recommended for you
X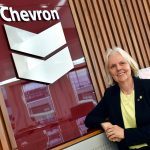 Exclusive interview: Chevron approves new lease of life for North Sea's Captain
Read the latest opinion pieces from our Energy Voice columnists