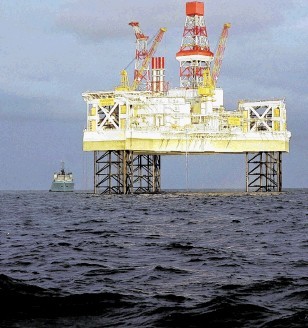 BP is to dispose of a 50% stake in a gas field for £178million in its latest selloff in UK waters, as it focuses on high-value assets with long-term growth potential.
The firm is offloading its share in the Sean gas field in the southern North Sea to the exploration and production arm of Scottish utility SSE.
Sean is operated by Shell and contributed about 18,000 barrels of oil equivalent per day to BP's production.
The sale will bring the value of North Sea assets, including a Norwegian field, which BP has sold off since the start of 2010 to £1.9billion.
Yesterday's deal follows an agreement last month to sell a string of fields to Taqa Bratani, the UK arm of Abu Dhabi's state-owned energy firm.
BP said the deal with Taqa was the last of the operated assets it was planning to sell.
It added yesterday it still had non-operated stakes in fields remaining to be sold, including shares in Shearwater and Erskine.
BP North Sea regional president Trevor Garlick said: "The divestment of BP's interest in the non-core, non-operated Sean field is consistent with our strategy of focusing on high-value assets with long-term growth potential."
The decision to refocus its North Sea portfolio began in 2010 and has led to the sale of its Wytch Farm oil field – western Europe's largest onshore oil field – plus 18 platforms in its Southern Gas Assets business, both to Perenco in 2011 and 2012 respectively.
Last month BP announced the sale of its operated stakes in Harding, Maclure and Devenick and a non-operated stake in the Brae area and associated pipelines to Taqa for up to £818million.
In the past two weeks BP has also completed the sale of its non-operated stakes in Alba and Britannia to Mitsui and the Draugen field in Norway to Shell; deals announced earlier in the year.
The firm has also been investing in the North Sea. It expects to spend about £6.7billion over five years in the area, including major UK and Norwegian projects.
Four major developments are under way in the UK – Clair Ridge, Quad 204 (Schiehallion), Devenick and Kinnoull – plus Skarv and the Valhall redevelopment in Norway.
BP operates about 30 fields in the North Sea, down from about 45 at the start of 2010 and employs about 3,000 people in the basin.
Recommended for you

Deals, exits and administration open up North Sea M&A opportunities