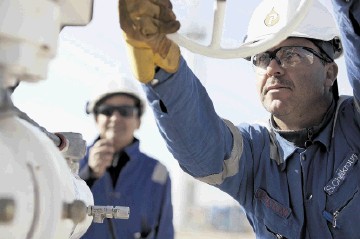 Energy service giant Petrofac said yesterday its profits would be up this year, thanks to major contract wins across the world.
Petrofac chief executive Ayman Asfari said net profits in 2012 would be at least 15% higher than last year thanks to the success of the group both in the UK and overseas.
Petrofac recorded net profits of £332.8million in 2011, and following this year's growth Mr Asfari said the company was on track to double its recurring 2010 earnings by 2015.
Petrofac said its backlog had also increased in the past year, up by nearly £500million to £7.2billion.
Among the group's successes in the current year was £1.3billion of new contracts at its offshore projects and operations (OPO) division, including a three-year deal with Apache to provide engineering and construction services for the operator's UK North Sea assets.
On its OPO arm, Petrofac said: "We continue to see high levels of bidding activity on both operations support contracts and offshore capital projects in the UK and Europe, the Middle East and Africa, the CIS (former Soviet Union) and the Asia-Pacific regions."
David Barclay, divisional director for investment manager Brewin Dolphin in Aberdeen, said yesterday's update went some way to alleviating market concerns after a disappointing trading statement for the third quarter.
Mr Barclay added that the increase in the order book, which he described as being "in rude health", showed strong momentum for Petrofac going into the new year. He said: "Overall, this is a confident statement with management reiterating previous guidance of 15% growth in earnings for this year end, and the company remaining on course to double 2010 recurrent income by 2015."