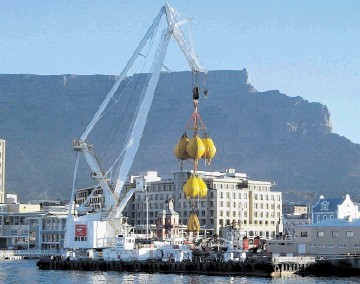 Energy service company EnerMech has bought an African firm as part of its plans to step up its presence in the continent's oil and gas sector.
The Aberdeen-based mechanical engineering business said it had acquired South African heavy-load testing specialist Water Weights International (WWI) for £3million, adding that it planned to invest a further £20million and recruit 250 people in the region over three years.
It comes less than a week after EnerMech said it expected to take on five new businesses in the next six months to extend its global footprint.
Cape Town-based WWI specialises in the proof load testing of cranes, lifting equipment and structures, serving the marine, shipping, engineering, industrial and offshore sectors.
EnerMech managing director Doug Duguid said: "We have been looking for some time for a suitable partner in Africa and WWI fits the bill perfectly.
"In light of the large number of significant oil and gas discoveries in west and east Africa, we believe there will be many opportunities to introduce and establish our business lines, including cranes and lifting, valves, hydraulics, process, pipeline and umbilicals, equipment rental and training services."
Mr Duguid added the WWI deal and the planned investment could add £50million to EnerMech's global revenue.
EnerMech said the deal was not connected to Aberdeen-based Water Weights, although WWI has acted as representative for that company in the Cape province for nearly 30 years. WWI, which employs 25 people, will now be known as EnerMech Water Weights.
EnerMech already has a base in Ghana and has completed or is working on projects in South Africa, Nigeria, Angola, Gabon, Democratic Republic of Congo and Equatorial Guinea.
The Granite City group said further expansion would follow in Namibia, Mozambique, Kenya, Tanzania and Uganda.
Recommended for you
EnerMech launches Mozambique move