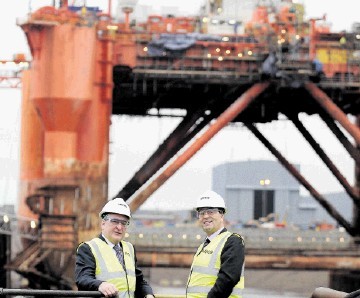 FOUR hundred more jobs are being created at the leading yard for the energy industry in the north, it was announced yesterday.
Global Energy Group, which bought Nigg Energy Park just over a year ago, is launching a Highland-wide recruitment drive to find skilled workers.
The Nigg workforce has already swelled considerably in the last year – from 150 to 800.
They are working on a variety of energy industry projects, as well as the regeneration of the 238-acre site.
The new recruits will start as early as next month, after Global won oil rig work worth tens of millions of pounds.
Global is now targeting a Nigg workforce of up to 2,000 by 2014.
Executive chairman Roy MacGregor said more good news for the facility is expected in the next few weeks. It involves a renewable industry development, but he would give no further details at this time.
Mr MacGregor said he was delighted to be fulfilling the promise of re-establishing Nigg as a large-scale local employer.
He added: "From the outset, one of our main ambitions in developing Nigg Energy Park was to see this site once again becoming a major local employer, providing good, well-paid jobs for people and making a real contribution to the area's economy.
"A great deal of work has gone on over the past year since we took on the facility to try to ensure we could achieve that.
"We are delighted that the levels of work we are attracting to this excellent facility mean that we are now recruiting on this scale. Given the hist-ory Highland people have in working at Ardersier and Nigg, we believe these affiliations might inspire them to join our established workforce and, in so doing, use their skills to help us with the exciting contracts we have coming our way."
Energy Minister Fergus Ewing, who attended yesterday's Nigg press conference, said: "Scotland continues to be a world leader in the energy industry and Global's announcement that it is further expanding its operations is testament to the quality of the local workforce and the continuing growth of our energy sector. This is a great Christmas present for Nigg and the Cromarty Firth."
Speaking at the Scottish Parliament, First Minister Alex Salmond described Scotland's people as its best asset.
He said: "This latest recruitment drive is a testament to the strengths our workforce, Scotland's vibrant energy potential and the ambition of our energy sector.
"It is great news for the north of Scotland and rounds off another successful year for our energy industry."
Highlands and Islands Enterprise (HIE) invested £1.8million to help support the Nigg yard's transformation into a multi-user energy hub.
HIE chief executive Alex Paterson said: "This announcement by Global Energy is great news and further emphasises the region's key role in the international energy sector."
Recommended for you

1,000 jobs up for grabs as ScottishPower kicks off green recruitment drive