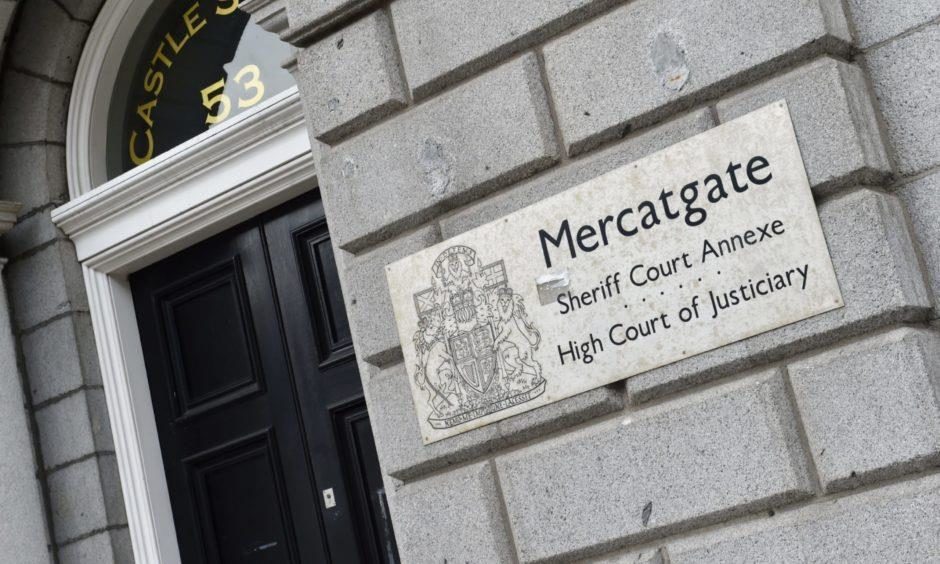 An oil boss accused of sexually assaulting a woman at his second home left before the police arrived because he "didn't have any clothes to wear the next day", a trial has heard.
Andrew Murray, 51, is on trial at the High Court in Aberdeen accused of sexually assaulting and attempting to rape a woman at his Union Grove property following an after-party, having earlier attended a party at Pittodrie.
Prosecutors allege the woman was incapable of giving or withholding consent due to being asleep or unconscious and intoxicated.
Murray, of Linn Avenue, Buckie, has lodged a special defence of consent.
The court heard he was a director with an oil and gas firm at the time of the alleged offence in December 2018.
He is also accused of attempting to pervert the course of justice by trying to destroy evidence and avoid prosecution by removing bedding from the address, changing his clothes, leaving the property and driving to his home in Buckie, and showering.
He denies both charges.
Murray took to the witness stand
On the third day of the trial, before a remote jury in the Vue cinema, Murray took to the witness stand to give evidence.
Under questioning from defence counsel David Moggach, Murray described the after-party at his flat coming to a close.
He said the woman had become "tired" and two other party guests "tried to lift her up" so she could leave with them, but "she said to them just to leave her".
Asked how he felt about this, the oil boss replied: "I wasn't particularly pleased at the idea but at that time of night what can you do?"
Murray said he then went to bed but was awakened by the woman "getting into bed" and said they had consensual sexual contact.
Mr Moggach asked how Murray knew she was "up for that" and he responded: "By her actions and willingness."
Mr Moggach said: "Did she at any point say 'I don't want you to touch me, don't do that to me'?"
Murray replied: "No."
Asked what happened afterwards, Murray said: "The woman then said 'can I see you again?'. At that point I said 'no, this has been a mistake'."
He added: "As I'm laying back I'm filled with regret. I've cheated on my wife and I've given someone expectation there was something further going to come from this event."
Asked what the woman's response was, the oil boss said: "It was like a switch. She became very emotional and started crying.
"She said 'you've made a fool out of me'. She said 'I'll just tell everyone that you raped me'."
Murray said he was left "flabbergasted" and added: "I didn't believe that she'd actually go ahead with the allegation."
The court previously heard evidence two pillowcases and a duvet cover had been found by police in the stairwell of the flat and in the back garden.
Mr Moggach asked what Murray did after the woman had left.
He replied: "I wanted to sleep but at the same time I thought I'd go back to Buckie.
"There was always the potential my wife, if we went shopping, could end up in the flat and dirty bed linen would have been an admission I had a sexual encounter with someone else."
Murray said he planned to take the bedding back to Buckie with him to wash there, and didn't realise the pillowcases and duvet cover were missing until he arrived.
Advocate depute Chris Fyffe asked him: "Why did you leave the flat and go to Buckie in the early hours of the morning?"
Murray said: "The first reason was I realised when I went to get dressed I didn't have any clothes to wear the next day. That was the primary reason for going back to Buckie."
Mr Fyffe asked Murray if he had been in a "hurry" when leaving the flat, to which he said: "No."
The advocate repute said: "You weren't in a rush and dropped the pillowcases and duvet cover in a panic to get out of the flat?"
The oil boss replied: "No."
Mr Fyffe continued: "Because the police were outside."
Murray said: "I wasn't aware the police were outside."
In his closing speech to the jury, Mr Fyffe said: "First the accused sexually assaulted the woman and attempted to rape her.
"Secondly the accused, knowing of his guilt and being aware the woman had contacted the emergency services, took steps to destroy evidence that might link him to that crime."
He described Murray's version of events as "far-fetched".
However, in his closing speech, Mr Moggach argued Murray's position "stood scrutiny".
He added: "This trial comes down to did what took place in the flat happen with the woman's consent, did she consent to what took place. It's my submission that she did."
The trial, before judge Graham Buchanan, continues.