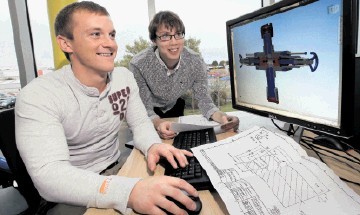 North-east firm Hunting Energy Services (HES) says it is on course for further expansion just one year after a £17million office and workshop development.
HES, based at Badentoy Park, Portlethen, near Aberdeen, has taken on 100 workers over the past 12 months and expects staff numbers to grow again this year.
The firm is part of energy service group Hunting, which employs more than 3,750 globally and said just weeks ago it wanted to increase its presence in the North Sea to take advantage of rising activity.
First-half figures for the group, whose upstream activities are co-ordinated through HES, showed turnover of £406.9million, up 62% on the previous year, while operating profits rose 86% year-on-year to £41million.
Traditionally a tubulars operation, HES also now specialises in well intervention, pressure-control equipment, downhole tools and mechanical plant.
The redevelopment of its base at Portlethen was completed last winter and led to a commendation in the 2012 Aberdeenshire Design Awards.
HES managing director Bruce Ferguson said: "The past year has been a period of tremendous growth, starting with the introduction of our team into the new facilities. Any project of this magnitude brings challenges and the teamwork involved was hugely encouraging to see."
"We invested heavily and it was important to get it right. The expansion of the facilities and growth in the number of employees is an indication of our commitment to the north-east and our strategy is to continue to build upon this.
"We have already demonstrated our intent with the strengthening of the engineering division in 2012 and the emphasis will be on continuing to attract the best people to Hunting in the year ahead."