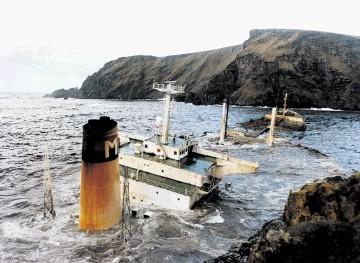 The 20th anniversary of a major oil spill in Scottish waters is a reminder of the need to be vigilant about environmental and safety issues in the North Sea. That was the message from Environment Secretary Richard Lochhead yesterday as he highlighted the fate of the tanker Braer, which ran aground off Shetland in January 1993. The disaster caused 85,000 tonnes of oil to pour into the sea, making it one of the world's biggest oil spills.
It led to lengthy battles for compensation worth tens of millions of pounds from people who said they had suffered financial loss or ill health as a result of the incident.
Ferry operators and salmon farmers were among the businesses seeking compensation. Local fish farms had to destroy their stocks of fish as they were too toxic to be sold.
The accident also led to a review of the UK's capability to protect itself from the threat of pollution from merchant shipping.
One of its key recommendations was the introduction of coastguard tugs, which continue to provide emergency cover in Scottish waters despite a row over funding.
"Braer was a wake-up that everything was not right when it came to safeguarding our waters," Mr Lochhead said.
"It is vital that the UK Government never allows complacency to creep in due to the passage of time because, even today, oil leaks are still happening.
"Thankfully, the Shetland environment has recovered and such major incidents are very rare.
"As we mark the 20th anniversary of the Braer disaster, we must continue to learn lessons and ensure our precious marine environment, and those using it, are properly protected."
Also reflecting on the Braer incident was Friends of the Earth campaigner Paul Daly, who said: "As far as oil spills of this scale, go we were pretty lucky.
"This was due to favourable circumstances that helped with the clean-up. Severe storms helped dissipate the oil, which was unusually light, and a speedy response from both volunteers and professionals to undertake onshore clean-up work were also factors."
The Deepwater Horizon disaster in 2010 spilled an estimated 560,000-585,000 tonnes of oil into the Gulf of Mexico and Mr Daly warned that the risk of major environmental catastrophes was ever present.
"We have not seen significant advances in spill-recovery technology or a reduction in spills", he said.
"The oil industry only aims to meet the minimum safety levels required by law."
Recommended for you

Aiteo threatened with licence loss over ongoing Nembe spill